Custom made vinyl stickers are a great way to express your business's values and get your name out there! Custom decals are easy to design and can be used for any project. Vinyl stickers adhere to almost any surface and are inexpensive. Suppose you are a small business owner and aren't taking advantage of this marketing technique. In that case, you should get started with custom stickers today!
This article will cover the basics of different types of vinyl decals and stickers and how to make them useful to get your company noticed, like creating custom furnace stickers with your company's logo to remind you of when to change the filter.
Custom vinyl decals are perfect for anything because they come in so many shapes and sizes. This article will teach you all about this versatile tool that lets any small business be creative with marketing!
Custom Vinyl Stickers Are a Great Way to Get Your Company's Name Out There
If you're looking to get your business noticed, custom vinyl stickers are one of the best ways to do it. They come in all shapes and sizes, can be printed with full-color designs, and are easy to apply anywhere you want people to find you. Plus, a quick internet search for "cheap custom vinyl stickers" can yield results fast enough that you could order custom stickers in no time.
Custom vinyl decals are a great way to get your company's name out there, but you need to make sure they look good, or else they will be useless. In addition, you want to make sure that you have quality logo stickers that fit your company's marketing style and brand identity while also making customers think of you when they need your product or service.
Vinyl Stickers Are Easy to Design, Can Be Used for Any Project, and Are Inexpensive
Stickers are a non-intrusive way to keep your company at the forefront of a potential client's mind. With the help of an excellent graphic designer, you can create custom stickers that can be used for numerous projects.
Giveaways and freebie printed vinyl stickers left at local companies that sell your product is a fantastic way to get people asking questions about you to the business. Everyone loves freebies. If your sticker design pops and makes people want to take one, they'll use it to decorate something that others will see. There is no better way to get your business name circulating than word of mouth. You need to customize a logo that looks so cool that people want to stick it on things like water bottles and notebooks.
Custom Vinyl Stickers Come In Many Shapes and Sizes, Which Is Perfect Because They Let Any Small Business Be Creative With Marketing
Let's say you just took over the mechanic shop that has been in your family for quite a while but needs a little revamp. When people come in for an oil change in their car, if you have a customized vinyl sticker that is durable enough not to peel from the window before their next service, your customers will be able to remember where they went to tell their friends and coworkers where they got a great deal.
As we mentioned, word of mouth is the best free advertising!
The Next Time You Have an Event Coming up That Needs Some Extra Promotion- Think About Custom Vinyl Stickers
If you own a small business storefront, a lot of the time, your front window makes better advertising than you may think.
People walking by or driving tend to look at the stores as they go by. Having large custom stickers or a cut vinyl decal in your window informing potential customers of an upcoming sale will get people excited about your sale before it has even started!
Give Out Stickers as Rewards for Your Customers
Businesses can use cheap custom vinyl stickers as a customer loyalty tool as well. When you have a loyal client base, rewarding them for their business is one of the best ways to not only keep them, but word will get around that your company knows how to reward those who choose you. When you order custom vinyl stickers to give away for free, sticker sheets are the go to product!
One example would be giving out bumper stickers with your company name and logo when a customer orders a custom product. Take the opportunity to take a picture or shoot a short video of them putting their bumper sticker on their car, then put it up online for everyone else to see! Then, you can reward them again by offering a discount for affixing the sticker and sporting your brand.
Use Vinyl Decals and Stickers as Floor Safety Labels and Warning Stickers
Since Covid hit, we've all grown accustomed to seeing bright yellow circles on the floor at any business we go to with bold black lettering telling us to stay 6 feet apart. These cautionary stickers are there to remind us that just because stores are open doesn't mean you should be on top of the next person in line.
There are plenty of other areas that you can create stickers and vinyl lettering for. For example, suppose you have a room in your business's building that needs a warning label telling customers to stay out. In that case, this is the perfect use for vinyl lettering and custom stickers.
Cut vinyl decals and stickers will stick to any smooth surface, be it the floor or the wall of your business or anywhere else.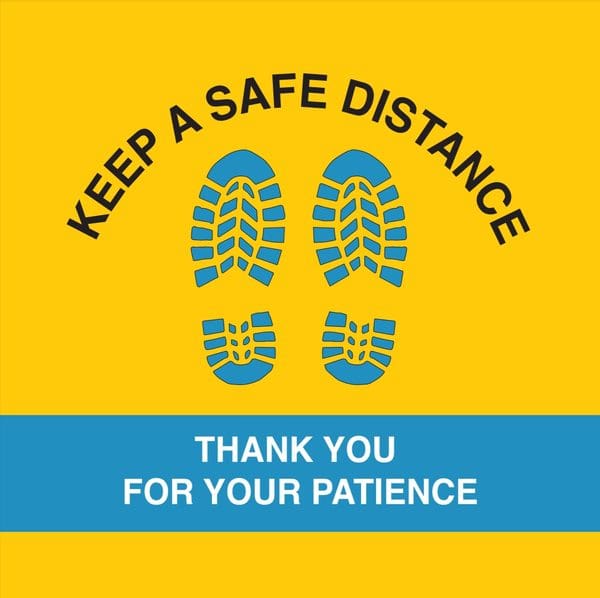 Create Beautiful Custom Labels for Products
Perhaps the most obvious use for printed cut vinyl or printed vinyl stickers is labeling your products. Businesses that sell food or candy, for example, need to adhere the ingredients list and nutrition facts.
Custom vinyl stickers and printed labels are perfect for this application. In some countries, there may even be regulations as to what the label must say, so make sure to do your research!
For any product, vinyl lettering can help make your product attractive and eye-catching.

Contact Fusion Marketing for All of Your Vinyl Lettering, Decal, or Sticker Needs
Fusion Marketing takes pride in the fact that all our stickers are the best in high-quality vinyl. And we don't just do custom vinyl stickers or custom vinyl decals, we can also handle custom magnets, t-shirts, posters, custom lettering, wall murals,and anything else you may want to print for your business!
We want to ensure that you get a custom logo, design, or message on your product when it's time for branding and marketing! We've been in the marketing business since 2013, and we know what types of advertisements work!
Contact Fusion Marketing to order custom vinyl stickers today!