The use of a perforated window decal to advertise a company is becoming more and more common.
These see-through perforated vinyl stickers are much cheaper than other modes of advertising, such as commercials and printed ads, and they work just as well because people can see custom perforated window decals from the street. Simply put your car in an open parking lot, and you will reach many potential customers that would not have seen your advertisement otherwise!
You can also have perforated window signs installed on your business windows or doors.
This article will cover why perforated window signs are great for any Macomb County, MI entrepreneur looking to make their mark on society without emptying their wallet.
What Is a Perforated Window Decal
A perforated window film or decal is a weather-resistant sticker that goes on the window of a car, office space, or anywhere else with a clear window seen by potential customers. They can advertise anything from a business to an event or even as personalized banners for an artist.
What Makes Perforated Vinyl Window Stickers Different Than Regular Stickers
Perforated vinyl stickers are different from regular custom decals because these opaque window decals are comprised of window vinyl with an adhesive backing filled with tiny holes so that they don't block a window for one-way visibility. Clear window decals are also available so that your logo or design is the only part of the decal that is visible.
One of the reasons that perforated window vinyl is so great for cars and office windows (or any other glass surface) is that with proper installation, the holes in the window graphics allow you to see through the window graphic. The holes also allow natural light to get into the space but provide a bit of shade.
They are different because they are made to be see-through from one side, so people can still see what is on the other side.
This makes it easy to advertise anything imaginatively- for example, if you have a business that deals with traveling, this is the perfect option for you.
Hanging advertising posters on lampposts and walls can be very expensive, and with Michigan weather, they may deteriorate quickly. However, with these perforated decals on your car or office space, you will get more people to see your business without spending too much.
What Are Some Good Uses for Perforated Window Decals
There are many ways to promote your business using perforated window decals, including:
Promoting a Business by Making Its Name and Logo Visible From the Road
Perforated window vinyl is excellent for storefront advertising for any large or small business. With proper installation, the holes in the window decal allow employees to see through the window graphic. This can be beneficial in making sure that nothing deters customer service tactics.
The holes also allow natural light to get into the space but provide much-needed shade during a Michigan summer. This makes them perfect for retail store windows.
Promoting Any Type of Art Whether It Be Music, Photos, Paintings, Etc
Perforated window decals are a great low-cost way to get the name of your local Michigan band or your art out there to potential fans. This is especially true because you can apply them to the back window of a vehicle so that your logo or painting, along with your personal information (like an Instagram handle), can advertise in full color anywhere you go!
Covering a Business Door So That Customers Cannot See Inside
Some businesses prefer to keep their dealings by appointment only and may not want potential customers to see inside their office. However, depending on your location, Michigan tends to get a lot of foot traffic. You may wish to use window decals for this purpose by simply printing the color of your choice on the vinyl, which will make up your logo or design, and applying it over the glass door to obscure visibility.
How are Perforated Window Signs Applied
Perforated window signs are easily applied with nothing more than adhesive! Simply clean the surface of the window and apply the sticker, making sure not to take off any protective backing until just before your window vinyl is applied. The stickers can be removed but will take a bit of clean-up to remove the adhesive. You can then apply another full-color window sticker immediately.
This process may sound like a nuisance, but our Michigan customers are always happy that the adhesive lasts for a considerable amount of time. Once the sticker is applied, you may want to laminate the sticker for added protection during Michigan winters. This is optional.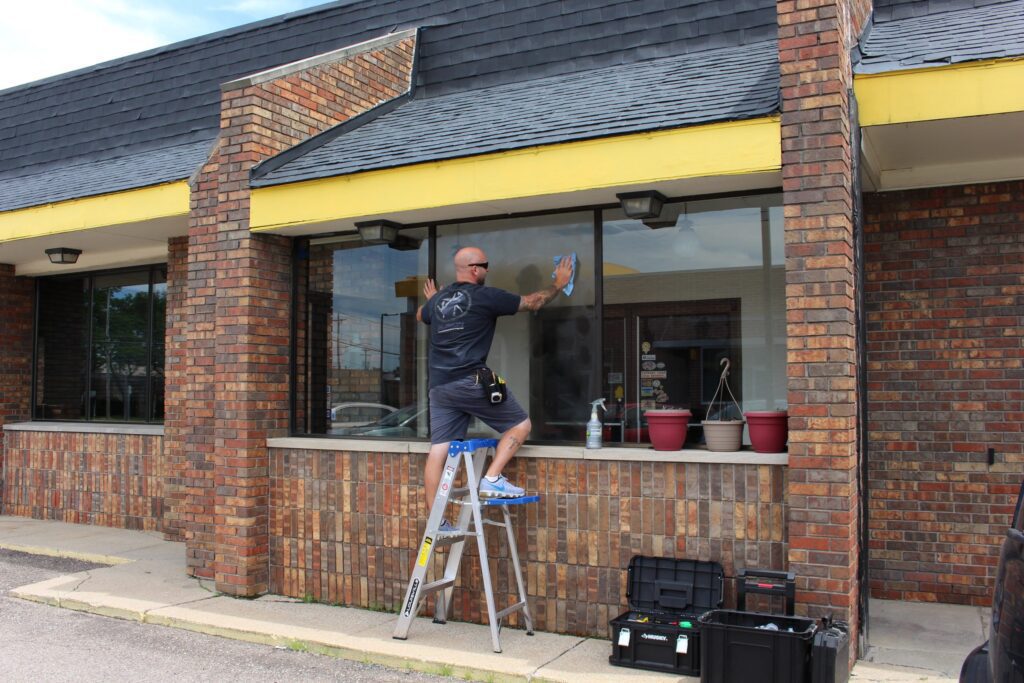 When Should You Use Perforated Window Signs Over Other Types, Such as Commercials and Printed Ads
Print advertising and commercials can be costly, and they may not reach as many people in a day. While many people know about the lower price of perforated window decals, this advertisement has other benefits over different types.
When you use a perforated window sign for advertising your business on a vehicle, you will be able to reach potential customers all around town. All you need to do is park in an open parking lot for a few hours, and you are guaranteed customers who wouldn't have seen your advertisement otherwise!
Additional Tips for Making Sure That People See Your Advertisement While Driving by or Walking Down the Street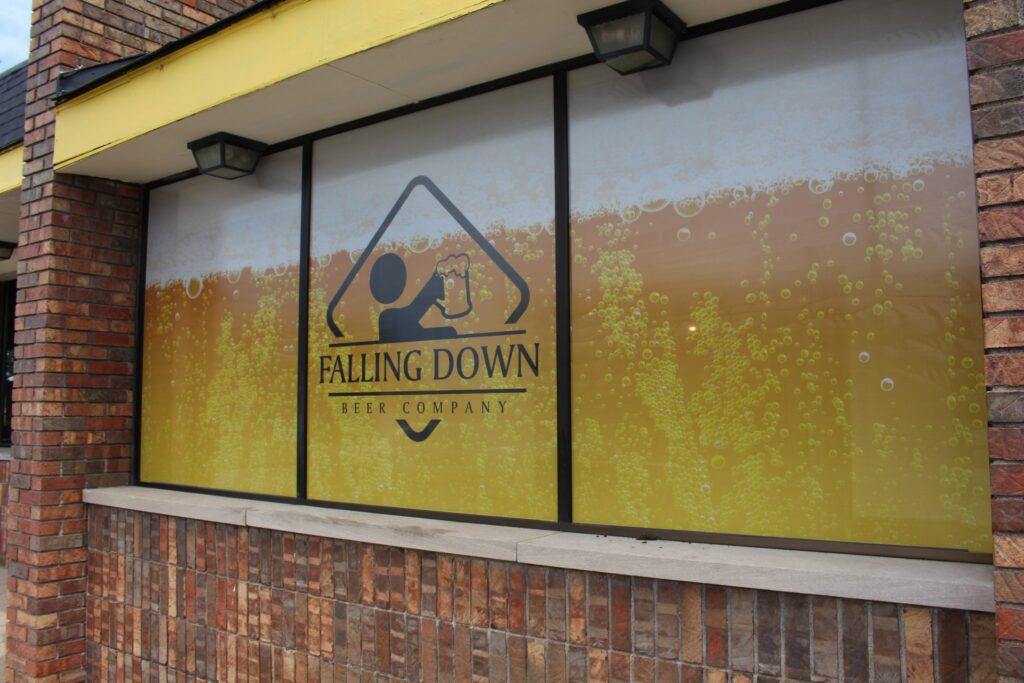 Take Care During the Installation Process So That They Are Aligned With the Corners of the Window
The last thing you want is crooked perforated window signs advertising on your window. Perforated window signs are custom cut to the size and shape that you need. Depending on the size of your clear window or another solid surface, the window stickers may be in multiple pieces. Your marketing or sign company may want to do the installation so that they know everything is perfect.
These vinyl window stickers are semi-permanent and made weather-resistant for exterior use, which is an added benefit in Macomb County, Michigan. In addition, if you install the one-way vision signs correctly, they can last up to two years!
Be Sure to Remove All Protective Layers Before Applying the Sticker
Your one-way visibility perforated window signs will come to you with a protective backing over the window decals. Make sure to remove this layer before applying the vinyl because it could make your signs look foggy or partially obstructed. Worst of all, you're Perforated window vinyl may not be able to stick to the window if you don't remove the backing.
If There Is Anything That Is Interfering With How Well Your Sticker Will Be Visible, Consider Repositioning It
Suppose you already have regular window decals or one-way vision signs. In that case, your perforated window vinyl will have to be removed before you can place the new perforated window signs in the spots you desire. Make sure to pick the right location when you place your perforated window signs to get the best view.
Some Decals Will Come With Specific Instructions on How They Should Be Applied
If your window signs come with detailed instructions for installation, follow them closely. This will ensure that your decal is installed to the best of its potential so that you can reap the benefits without dealing with less than ideal results.
Do Not Attach These Decals to Heavily Tinted Windows
If your windows are tinted already, you may not want to use perforated window decals. These signs are designed to work with lightly factory tinted windows and OEM accessories. Still, they will likely exceed Michigan tinting laws if you apply them onto heavily tinted windows.
If you choose to take the risk by applying the sign onto a tinted surface, keep in mind that it is your responsibility to comply with local or state laws as the sign owner.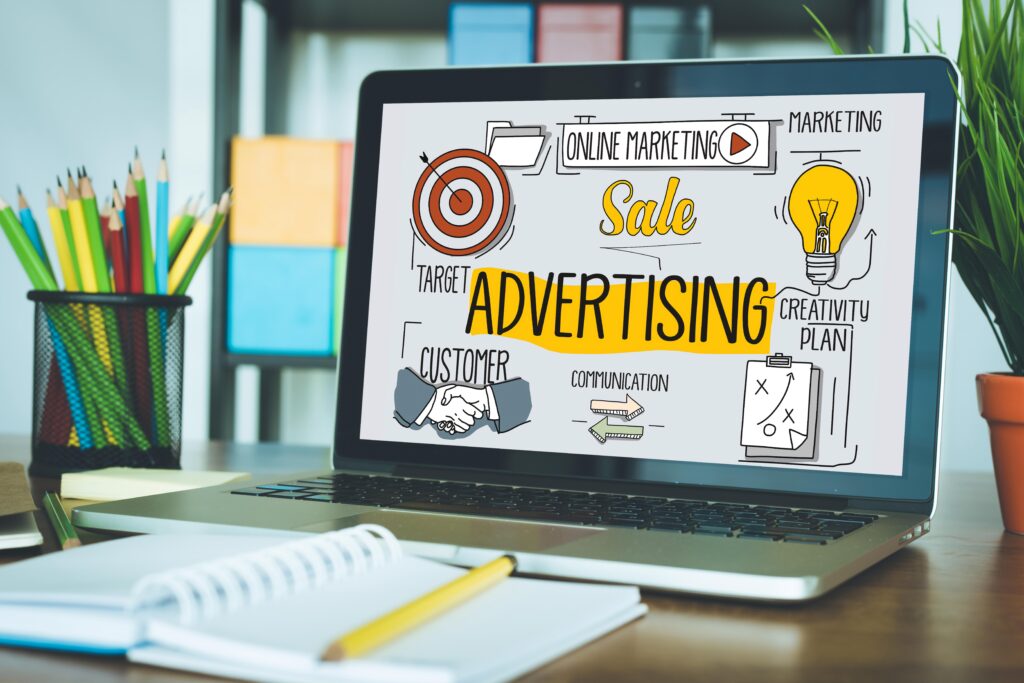 How You Can Tell If Your Perforated Window Signs Are Working
There are a few ways to tell if your perforated window decals are working for you. A sure sign that you have brightened someone's day with your advertising is when they take a picture and post it on social media.
Another easily measurable way to tell if this advertisement is working for you is increased business. For example, suppose your business begins to receive more foot traffic than usual after filling the empty canvas that was your window. In that case, your perforated window signs are working well!
Where Can You Buy Perforated Window Signs for Your Business
Fusion Marketing has a team of professional graphic designers in Macomb County, Michigan. They are here to create custom-built products and logos for your business. For example, we specialize in creating custom vinyl stickers and perforated window signs at a great price that won't break the bank for local Michigan businesses! We have been designing these and other graphics to meet the needs of our clients since 2013.
When you need your business logo to be seen by as many people as possible, these high-quality stickers are a perfect choice. With our easy-to-use system, it will only take minutes to submit a request for a quote for your design online. If you're not sure about what type of design you're looking for on your perforated oneway stickers, we can take care of that as well! We love figuring out solutions for Michigan businesses!
We hope this article has been informative for those who may not know much about how these see-through window stickers work. If anything is unclear, please feel free to reach out, and we would love to help answer any questions you might have.