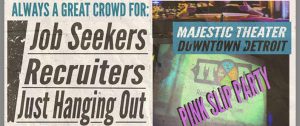 PHOTO CREDIT: itinthed.com
Networking 'Pink Slip Party' coming to Detroit's Majestic Theater
Massive 17thsemi-annual information technology job fair hosted by IT in the D expected to attract more than 1,000 attendees for March 19 event held in Detroit's Midtown District
Detroit, Mich. — Tired of attending networking events failing to connect qualified information technology professionals and employers, industry veterans David Phillips and Bob Waltenspiel opted for a return to basics – meeting and mingling in casual after-hours gatherings not unlike a speed dating session. Today their networking group is called IT in the D, and it's responsible for organizing massive semi-annual gatherings for a specific set of job seekers – impacting more than 1,000 tech professionals so far. The next event – a "Pink Slip Party" – is Thursday in downtown Detroit.
The IT in the D networking group responsible for Pink Slip events formed in 2001, hosting casual networking events for IT professionals monthly. Responding to the downward spiraling job market, the group tweaked their format and added job-specific events. The trend continues with the organization's 17th- "Pink Slip Party" networking effort on March 19 at the Majestic Theater (4140 Woodward Ave.) in Detroit's Midtown. The event runs from 5 p.m. to 9 p,m.; admission is free, although parking is $5.
Co-founder Dave Phillips added, "There's no need to bring your resume to this event, even though it is a job fair – you don't want to carry around a stack of yours all night, and the recruiters don't want to haul a stack of everyone's around either. Simply bring business cards, have a solid message, and follow up as appropriate the next day."
"Pink Slip Party" events strive to reverse worrying employment trends by fostering a casual environment where qualified information technology professionals exclusively can mingle in a casual environment with job recruiters. Since these evening networking sessions started in 2009, Phillips estimates 1,200 information technology professionals have been hired directly due to their participation.
"These events are all about getting things done," said Waltenspiel. "So our usual rules apply — no guest speakers, no agendas, no fashion shows…nothing other than good, solid networking with your peers and the people you want to know."
A handful of local sponsors seeking to connect with a tech-savvy audience — including Fusion Marketing, Arrow Strategies (talent acquisition), OpTech (professional services), and New Horizons (computer learning centers) — are contributing resources to the event to defray costs of site rental and other expenses.
"The IT in the D founders never envisioned their accomplishments, but their hard work is rejuvenating a local economy that's been struggling to regain traction," said Roseville, Michigan-based Fusion Marketing founder John Hofmann. "We're proud to support their efforts in continuing the success 'Pink Slip Party' sessions have demonstrated in connecting qualified candidates with great employers."
Recruiters and interested IT professionals can learn more about all upcoming events by visiting: www.itinthed.com.
About IT in the D: Founded in 2001, IT in the D's mission has been to create a venue for Information Technology professionals in Metro Detroit to offer a safe and agenda-free networking venue. The group added a wildly popular blog on their website to help steer the IT community, a podcast showcasing local tech news, start-ups, and banter, as well as numerous user groups, to help collaboration. More information can be found at www.itinthed.com.
About Fusion Marketing: Launched in 2013 by owner John Hofmann, the Roseville, Mich.-based Fusion Marketing is a collaborative effort of web developers, graphic designers, videographers, photographers, animators, artists, and writers pooling collective resources to maximize the reach and impact of the firm's marketing campaigns targeted to organizations of all sizes.
Contact:
David Phillips
(248) 840-2103
echodave@gmail.com