Think outside the box to stand out from the crowd. Marketing is an important aspect that can make or break a business. In this case, it makes all the difference.
So many coffee shops have tried marketing with no success, while others have been successful at drawing customers in by standing out from their competition. If you want success for your coffee shop, think differently. One way to do this is by committing to rebranding and a new logo design with Fusion Marketing.
Many independent coffee shops in the US have a coffee cup in their coffee shop logo design or some variation of a similar cliche theme. This isn't always a bad thing, considering it shows the product being sold, but if done wrong, it makes the logo design look generic and similar to any other coffee logo.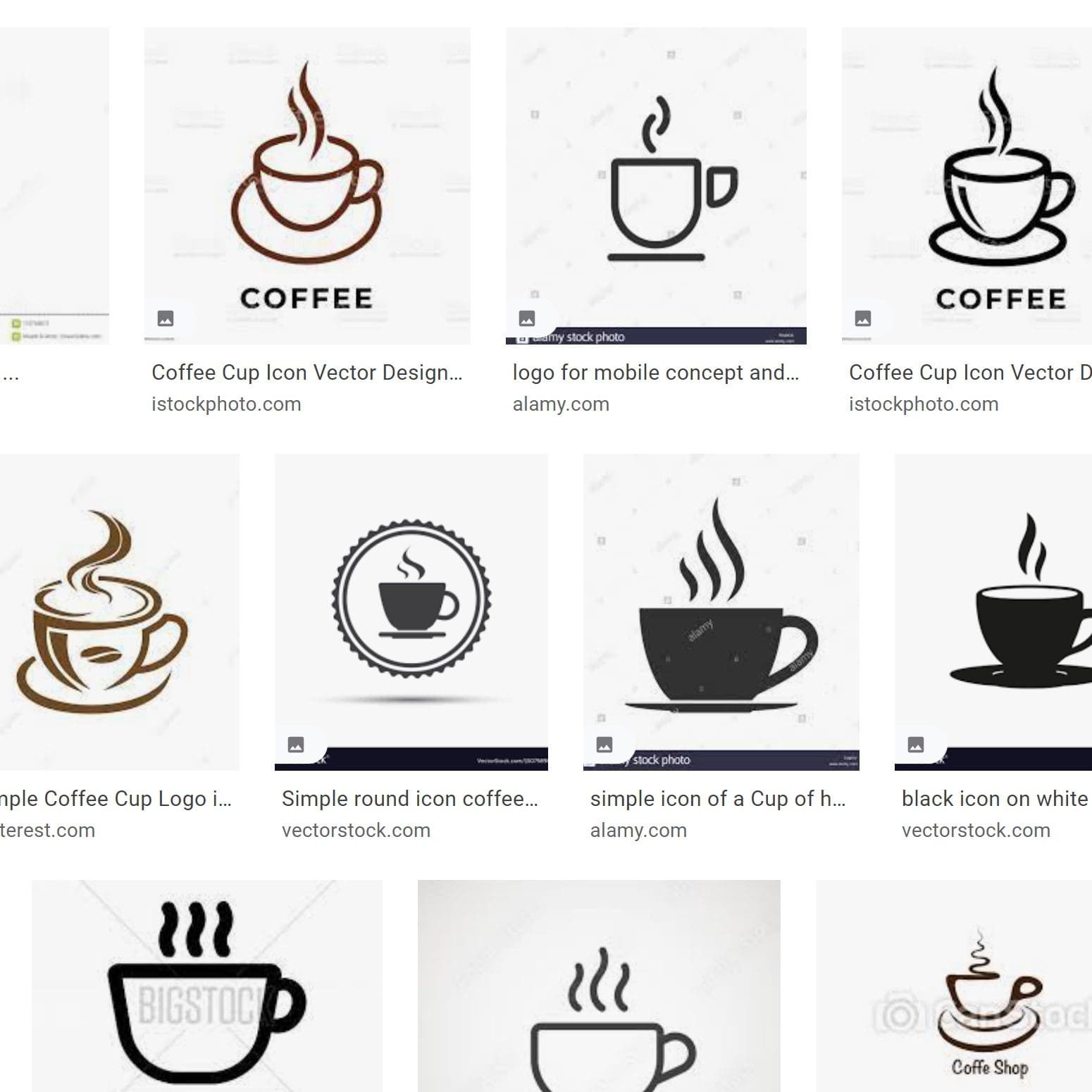 The problem with this similarity is that people expect a coffee shop to have a cup in their logo, but the cup is a highly overdone theme.
If you want to grow your business, you will need to take a different approach; one that will separate you from the competition. In this article, we will look at famous brands in high demand and compare their coffee logos.
The Coffee Bean & Tea Leaf
The second icon in the coffee business with a perfect coffee logo is The Coffee Bean & Tea leaf, which started in 1963 as a coffee service for offices, was founded by Herbert Hyman. In 1966, he and his wife, Mona, were married. After the wedding, the newlyweds took their honeymoon in Sweden. There, they learned about quality coffee.
Herbert and Mona's experience in Sweden was the catalyst for opening the first Coffee Bean in 1968. The Hymans allowed their clientele to view the roasting process on their coffee beans and taste sample different coffees. The Coffee Bean was an inspiration in the coffee house world, as they were one of the first cafe icons to sell whole beans and tout their country of origin.
The logo for The Coffee Bean & Tea Leaf is a circle done in coffee brown. Split in half by a coffee stirrer with a tea leaf on the bottom and a coffee bean on the top. Above this emblem, the text reads "The Coffee Bean," You will find "& Tea Leaf" below. The style changed a bit in 2016 when they added words, varied fonts, and twisted the entire coffee logo to sit just a bit askew.
When we see this logo design, it looks like you're looking down into a cup of coffee. It's great because it's a bit abstract, but it's almost a perfect logo for their coffee shop variety. Most of all, it leaves us yearning for a cup of coffee.
The one thing it is not is entirely original. That definitely hasn't stopped this company, however. Wikipedia states that In 1991, when it was first planning to expand into Los Angeles, Starbucks tried to purchase the firm, but Hyman turned them down. The opening of Starbucks stores in Los Angeles unexpectedly helped Coffee Bean's business, by driving curious customers to the area.
This coffee icon has 99 stores as of June 2021.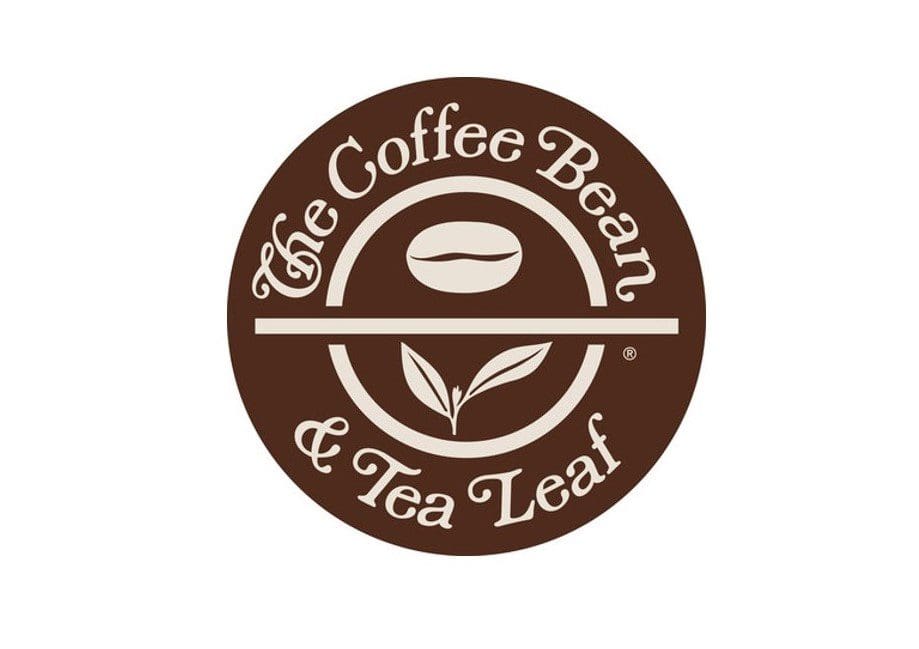 Gloria Jean's Coffees
The next coffee house on our list of cafe logos is Gloria Jean's Coffees.
In 1979 (42 years ago), Gloria Jean's Coffees was founded by Gloria Jean Kvetko in Long Grove, a small town just outside Chicago, Illinois, United States, North America. The firm began as a small coffee and gift shop in Chicagoland and grew to over 50 locations throughout the US.
Currently, the company is American-Australian-owned. They operate 1400 coffee houses in 40 countries. 460 of those cafes are in Australia.
The shop logo that this shop designed for their company is simple and homey. Again, we see the use of brown to create the cafe logo. A dark brown outline with a light brown fill reminds us of coffee with cream. Sitting above the text that reads "Gloria Jean's Coffees" Is the graphic branding of a steaming cup of joe.
A coffee shop logo design that makes you want a cup. This seems like a running theme.

Dunkin' Donuts Coffee
Like others on our list, Dunkin' Donuts is a brand that people think of when they think of coffee. As a result, they've had many logos over the years, many of which have included a cup of coffee.
Very few people in the US don't think of Dunkin' when they think of a company with a brand identity that screams coffee. Every browser search you do containing the word "coffee" is sure to pull up a Dunkin' Donuts within a fair distance since they boast 12,900 locations in 42 different countries!
Dunkin' Donuts has changed its coffee shop logo many times since opening the doors of its first coffee shop in Massachusetts in 1950. A quick browser search for "Dunkin Donuts coffee logos" will show you that many of those logos include a coffee cup along with their signature orange and pink graphics colors.
We think you get the point about the coffee shop logo and the coffee cup. But, if you're ready to start building your business, it may be time to throw out the cup in your custom logo.
Starbucks
On the opposite side of the spectrum, we have Starbucks.
Starbucks holds the title of the largest coffee shop chain in the world. As of September 2020, the company had 32,660 stores in 83 countries, including 16,637 company-operated stores and 16,023 licensed stores.
Per Tailor Brands, "Starbucks wasn't always called Starbucks. The original founders first named their company Pequod, after the whaling ship in the story of Moby-Dick. They quickly realized this wasn't a catchy name and switched it to Starbuck, who was the ship's chief mate."
It's clear to see that Starbucks is a company that knows what it's doing in the marketing department. Their coffee shop logo is plastered everywhere! It's the Queen (or King, whichever they prefer) of coffee logos!
The Tailor Brands website explains on their A History of the Starbucks Logo page that the logo design has changed throughout the years primarily because of marketing!
Be it to cover the Siren's breasts with her hair, change the primary color of the logo, drop the words "Tea & Spices" from the coffee logo entirely, or zoom in on the mermaid; all of the changes that have been made to this famous coffee logo have been made to make it more marketable.
It is an easy logo design to fit it on a coffee cup, print ads, or any other of the cafe's brand merchandise. As a result, it has become one of the most recognizable logo designs in the world.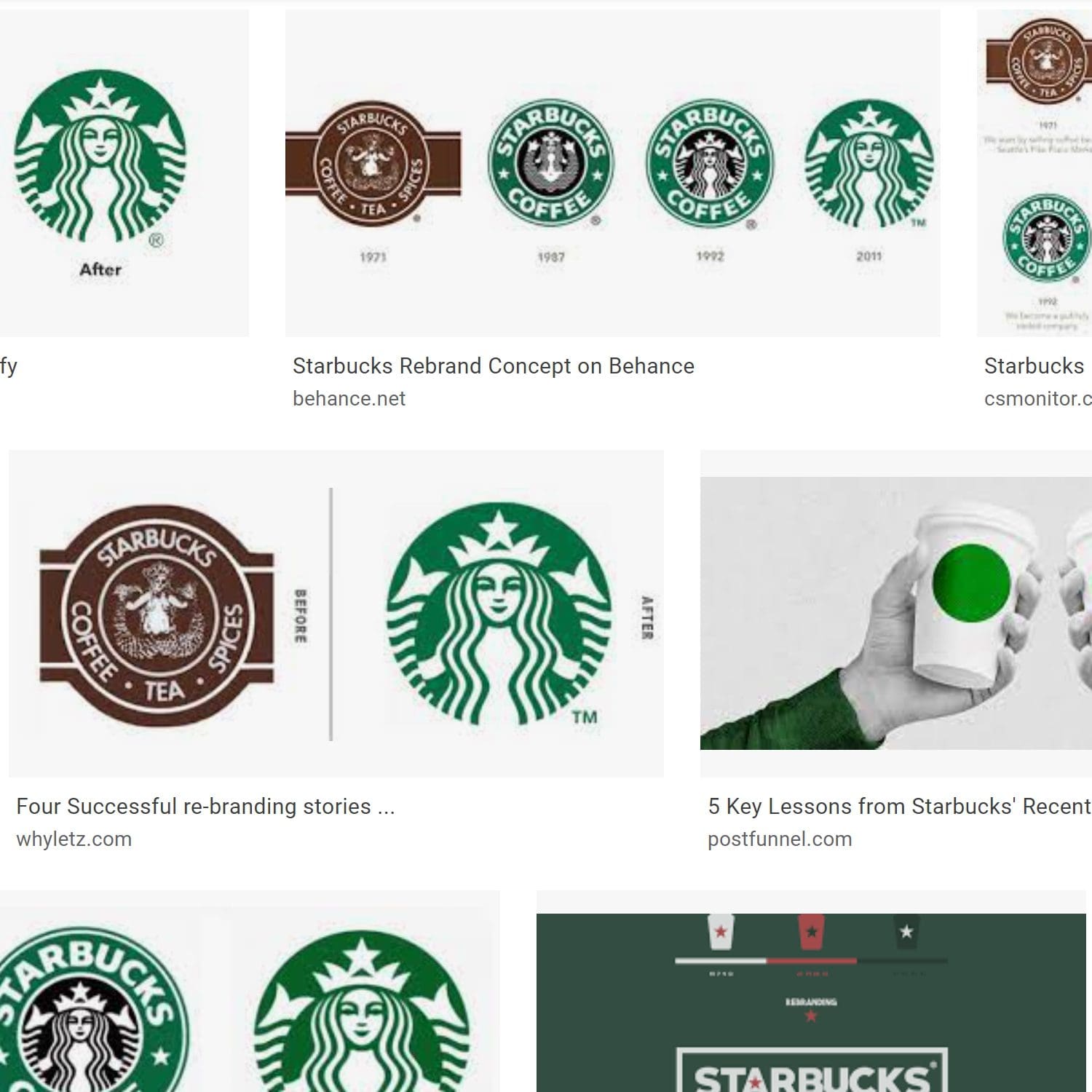 Logo Design at the Tips of Your Fingers
Now that you've decided to open a coffee shop or a cafe, it's really time to start thinking about the perfect coffee logo. Since this is your own logo design, you could use a logo maker website to personalize your branding.
A logo designer website should be easy to find in a quick browser search. They may have premade templates on the site that you can download from the page and go, or you may be able to customize your own coffee logos creating branding for your shop logo with the fonts and a graphic that appeals to you. You can find logo templates with a solid or transparent background and browse a choice of fonts.
If you browse through the stock images on a create your own logo site using "coffee" as a keyword, you are sure to find a coffee cup in the majority of your preloaded options. Coffee cups and coffee beans galore!
Why Not Create and Download Using a Logo Design Website Template?
The reality is that even though these types of sites allow you to personalize and create branding specific to your coffee shop, most of what you will use to customize your logo design will be pretty generic.
When it comes time to print a business card or sign, the last thing you want is for your finished project to look like you pulled it from a template on a free logo maker website.
Why Use a Marketing Company for Logo Designs and Branding?
The power of marketing firms is in their ability to create customized branding for clients. A good marketing company will bring your vision to reality before your eyes.
Every project that we do at Fusion Marketing is customized to its client's wants and needs. So, for example, our marketing firm knows how to create a logo design that fits in with all branding materials, from coffee cups to business cards and everything in between.
The extra time and care you take by working with a marketing company will ensure that your project is more than just an average takeaway cup sitting on a desk or shelf at a worksite, completely forgotten.
When you team up with our marketing team to work on a logo design for your coffee business, you won't only be getting a logo for your sign or cup. Together we will create the beginnings of your coffee shop brand identity. Your logo is the first thing people think of when they imagine your brand.
We want you to be in high demand!
If you're interested in learning more about why a marketing business is the right choice over designing your own coffee logos, check out this article on why logo design, branding, and marketing are worth your investment.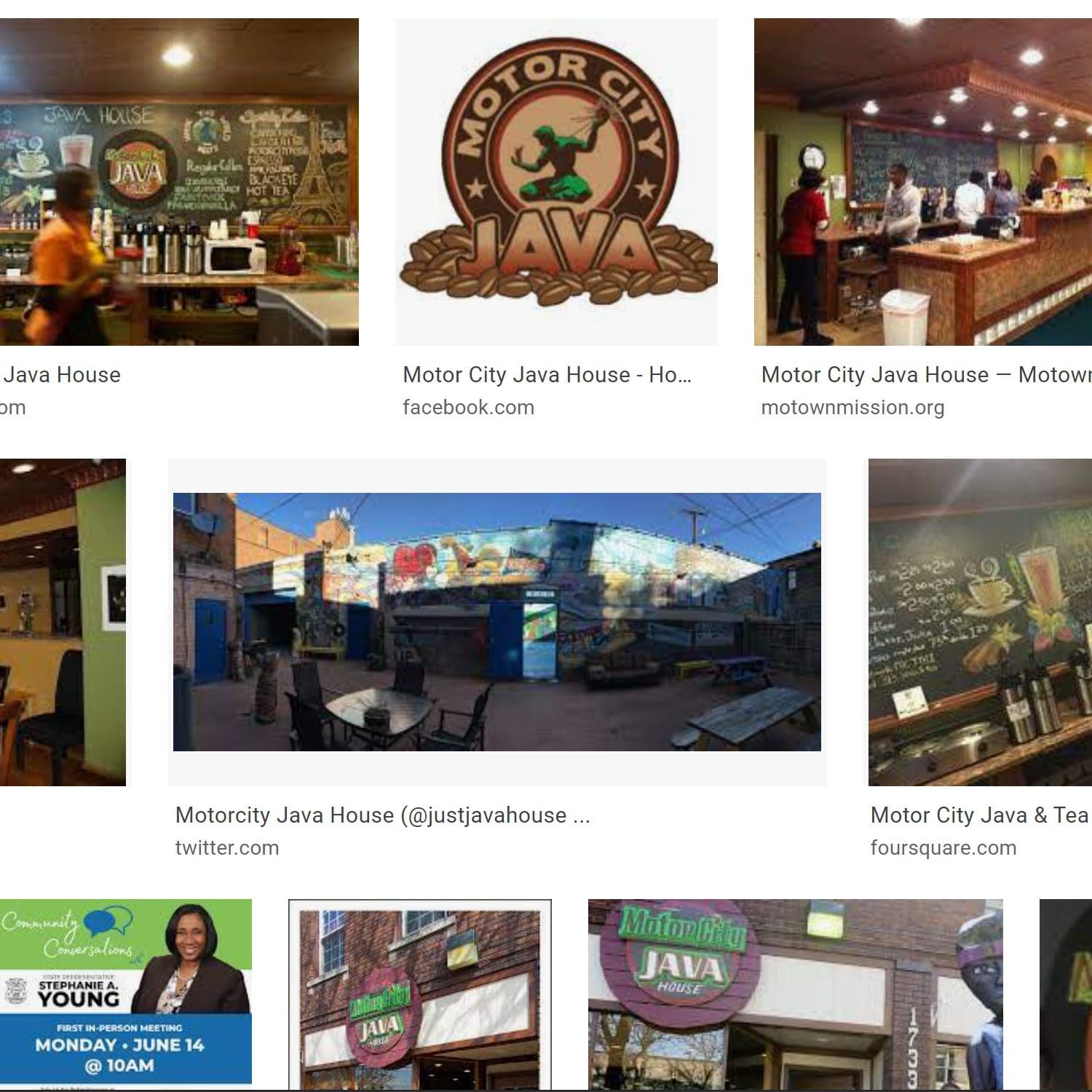 Rebranding for the iconic Motor City Jave in Redford, Michigan
Tips on Creating the Perfect Coffee Shop Logo Design
Don't try to cram too much into your logo design.
Your goal is to create a simple, memorable logo that will be effective and reflect well on your business as a whole.
Make sure that the colors of the fonts in your coffee shop logo are complementary.
This way, they look best together on paper or digitally and won't require heavy rebranding down the road.
Try not to use any elements that might make the design complicated.
You don't want coffee shop logos to be hard to use on your coffee shop sign or cups.
Keep it simple, clean, and easy to remember.
You will have many options when it comes time for you to design. Don't get overwhelmed when you get a rush of cafe logo ideas. Pick art for your coffee logo that will imprint upon a customer's mind.
The best coffee shop logos are simple, with strong images and colors to create instant brand recognition.
We cannot stress this enough. When imagining your new coffee shop logo, think about the Starbucks logo.
If you are determined to create your own coffee logo, be sure to check out our blog for updates like this one on the psychology behind shapes in logo design.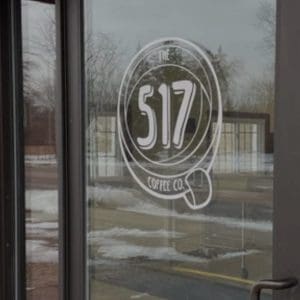 The 517 Coffee co. located in Lansing has a fresh logo that's almost as fresh as their coffee.
Let's Join Teams to Create the Coffee Logo of Your Dreams
When it comes time to craft a custom logo design for your shop, brainstorm with your team members on the crucial aspects of what you want your brand name and coffee shop logo to say about you.
Take some time to figure out what colors you want to use in your branding and what fonts will work best.
Ask your team for their input on logo designs and graphics that would appeal to all of the different types of people who visit coffee shops.
With Fusion Marketing, you will get a custom-designed coffee shop logo that fits well with your brand identity and overall message, and we'll keep you involved every step of the way.
Once you're ready, give us a call at (586) 610-0055, so we can get the process rolling. We're just as excited as you!