What are the biggest printing mistakes?
Unless you've got extensive experience in printing, then it's likely that you're guilty of making a few mistakes. There's nothing wrong with this — after all, we all make errors from time to time! The issue is that if you're making too many mistakes on a regular basis, then your business will suffer. After all, the reason why you're printing in the first place is for the benefit of your company. To get the most bang for your buck, then you'll need to ensure that your printed materials are as watertight as possible.
Fortunately, the printing mistakes that businesses make are rarely unique. Instead, we see the same old errors again and again. And that means that you can take a proactive stance to ensure you don't end up with low-quality, error-strewn printed materials.
Remember that you can give yourself the best possible chance for printing success by working with a high-quality printing services company. Or, if you've already messed up your printing at home, then look for a print shop near me. 
OK, without any further adieu, let's take a look at the eleven most common printing mistakes that businesses make.
Not considering how a print will look on different surfaces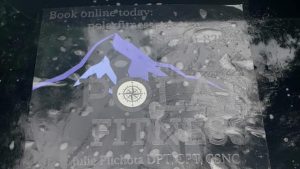 You might love your design and look forward to seeing it printed in all its glory. But then, when it arrives, it's not as amazing as you thought it would be. So what gives? There are many reasons, but one common reason is the surface material for the print. Your design will look one way on paper, another way on glass, another way on metal, and so on. If you're looking to print something on a potentially complicated material, it'll be best to look for printing services near me. They'll be able to give advice that'll ensure your printing experience is nothing but smooth sailing!
Printing files with the wrong color profile
There's another reason why some people end up disappointed with their final print. It's all to do with the color profile. There are several different color spaces. If you made your design using Pro Photo Space (or similar), then your design may look different when it's printed up. Why? Because software such as Pro Photo Space has a wider range of colors than what is available through ink printing. If you've picked an outlandish color that a printer can't understand, then it'll look faded when it's printed. You can save yourself this hassle by picking traditional color spaces, such as those of sRGB or Adobe 1998. You can call up a print shop near me to learn what color profile they use.
Failing to check for mistakes before printing
You'll have worked hard on the design for the materials that you're printing up. The problem is that sometimes you work too hard; that is to say, that you're so close to the design that you fail to see errors that might be staring you right in the face. You only see them when they're returned to you, at which point they become painfully obvious. You can avoid this issue by double- and triple-checking that everything's in order before sending it to the printers. And don't just rest on your own error-detecting skills — have as many people look at the design. This will greatly reduce the chances of a mistake slipping through the net. 
Choosing a color that doesn't work with your brand's identity
You could have a beautifully designed, high-quality print that doesn't work for your business. Why? Because it's all about branding. When designing materials for your company, the design must be in line with your branding. The language you use and the color of the material should reflect your branding. For example, if you generally have light and fun colors, it would make little sense to have a dark and moody design. If you get it right, then what you print using printing services should help to solidify your branding rather than undermine it. 
Using too many colors and fonts in one design
It's good to get creative and push the boat out slightly from time to time. However, there is such a thing as overly complicating the creative process. If you have too many colors and fonts in one design, then it'll be likely to overwhelm the audience. It'll be too jarring. Instead, keep things as simple as possible. It's better to have a clear and minimalist design that uses only a couple of colors and perhaps just one font rather than having a chaotic design. When in doubt, strip things down! You'll thank yourself later.
Incorrect Text Sizing and Color
You'll have a message that you want to send with your printing project. Sometimes, you'll send this just through the use of an image; at others, you'll need text. If you choose the latter, then your audience must be able to read it! The most common mistakes people make when it comes to their text is making it too small or choosing the wrong color. Your text might look just fine on your screen, but when it's blown up, you might struggle to read it! 
When it comes to color, it's important to think about the background color. If you've got a black background, then you'll want to choose white text. You might like the look of cyan or yellow when you're viewing the design on your screen, but those colors could bleed during the printing stage. At that point, the text will be much more difficult to read. 
Low-Resolution Images
A printer is an exceptional tool, but it's not a miracle worker. If you've got a low-resolution image, then you can't expect things to look quite as neat and impressive when the size is multiplied. So pay attention to the resolution of anything that you're sending to the printer. Your images should have a PPI (pexels per inch) of between 300 – 400. If you're within that range, then everything will likely be fine. Also, remember that having a resolution that's too high can cause the same problem. If you find a random image on the internet, then you can't just blow it up and expect it to look great – sorry!
Wrong Formats
You might have an image all ready to go, and have looked up the best company that offers printing near me. Alas, when you get the print back, you're a little underwhelmed with the results. We talked earlier about how this could mean the color profile is incorrect or the material wasn't considered. However, it could also mean that the file was submitted in the wrong file format. If you're trying to print .gif or .png images, then you'll run into trouble since those are screen-only formats. The resolutions of those files are much lower than what is required for a top-quality printing job.
In general, it's best to use a .tiff format for printing jobs.
Poor Design Choices
There's no gentle way to say this: if your design is low-quality, then it doesn't matter how good the printing job is. It won't look good! When it comes to putting together printing materials, it's a good idea to either hire an expert designer to do the task for you or to look up some tried and tested tips before you get started. If you have any doubts, then just keep things simple. Beginners can quickly get into trouble if they try to make their designs overly bold. The design will stand out, but not for the reasons that you want it to!
Not Making the Most of Available Space
Depending on the size of your printed materials, you may end up with too much dead space. It's all good and well to keep things simple, but unless it's expertly designed, having too much empty space on your poster or other item will just make things look a little vacant. 
Choosing the Wrong Printing Company
Finally, remember that even if you've done virtually everything else correctly, you might end up with low-quality printing materials. If you entrust the printing process to the wrong printing company, then you might struggle to get the materials you need. So don't just search for 'print near me' and choose the first company you come across. Instead, investigate their credentials, and look at examples of their previous work. This requires an additional step, but it's not one that you should overlook. If you've put considerable amounts of time and effort into getting your design just right, then you won't want to fall at the final hurdle! 
If you're looking for a company that can handle your printing and marketing needs, then get in touch with Fusion. We have the experience and expertise to help with all aspects of marketing, from design to print, to web, from beginning to end. So request a quote, and let us show you what we can do for you!