There are many ways to get creative with bar and restaurant marketing that you can use to increase the number of loyal customers. The restaurant industry is a tough one to stay afloat in. Still, restaurants can stand out from the competition and increase their bottom line with a great creative marketing strategy.
In this article, we will get straight into marketing strategies. We'll start with a few tried and true best restaurant marketing tips and move on to out-of-the-box creative restaurant marketing ideas. Once they have implemented a great restaurant marketing plan, restaurant owners will be struggling to keep the line of customers out the door warm while they wait for a table!
Social Media Marketing
One of the most effective methods is social media marketing. Restaurants and bars can use various social media platforms such as Facebook, Twitter, Instagram, and Snapchat to reach a large number of people in their target audience. Aside from marketing in Facebook ads or the like, they can run contests, post pictures of their food and drinks, offer discounts, and much more to attract hungry customers to the restaurant on their Facebook business page.

Build an Accessible Website
Customers respond well to restaurant websites. A website allows customers to access information on the location, pricing, and menu online while sitting at home on their computers. As a result, they can easily decide whether or not they want to eat at the restaurant and what they want to order from a business online before making the trip down.
Make sure that the website is accessible to mobile devices. Mobile users often visit a restaurant online to make online reservations, so be sure that the site includes an online reservation tool and an online menu. Ensure that there is a good menu online so that customers don't just skip to the next establishment. The website can also point customers to a loyalty program that runs restaurant promotions specifically catered to menu items they have already proven to be fond of. If loyalty programs are offering something that existing customers have already been proven to like, they will be more likely to take advantage of the special offer and continue to dine at your restaurant.
Highlight Good Reviews on the Website and Social Media
In today's online-driven environment, people want to see user-generated content telling them that the food sold in the restaurant is just as good as it looks in digital marketing! So be sure to highlight the positive reviews and testimonials that the restaurant has earned online on the website, Facebook page, Instagram account, Twitter feed, etc.
As a bonus tip: be sure to respond to any bad reviews professionally so as not to deter potential customers from wanting to dine at the establishment.
Email Marketing
To attract customers, a restaurant can also use an app or email list with a customer loyalty program to send coupons or notifications about when they have discounts. It's the best way to stay connected with customers and let them know about great deals that they can't afford to miss out on! Email is not only practical, but it is also cost-effective.
Partner with a Delivery Service
One of the best restaurant marketing ideas for today's market is to offer food to people at home. Many online delivery services are on the rise, so if a food business can partner with one that specializes in their type of cuisine, they'll have no problem getting customers to come into the restaurant even when they are busy. For example, GrubHub is a popular online delivery platform that allows users to order food from many restaurants at once and have it delivered right to their door. By partnering with GrubHub, restaurants can gain customers who would otherwise not be eating out at all and increase the volume of their total sales.
Have a Restaurant Promotion for Businesses in the Area to Win a Free Lunch for Their Employees
Anytime a restaurant owner is willing to use a free meal as a restaurant promotion, they increase brand awareness. People love free. The restaurant will undoubtedly see a positive boost in their restaurant business if they offer your local businesses the chance to win a free lunch for their employees.
There are many ways to increase awareness for a brand; however, this one is fun and easy for everyone involved. It's also great for word-of-mouth marketing for the restaurant's brand identity. The employees will run and tell all of their friends about the fantastic lunch they had and show them food photos of what they ate at the establishment!
Start a Restaurant Blog
Restaurants can blog about upcoming events and new menu items and take advantage of all of the local SEO (search engine optimization) benefits that blogging offers. In addition, use the blog to interact with customers by having them submit story ideas or by featuring guest posts from food bloggers who are satisfied with the delicious food on offer!
On top of this, restaurant businesses can share mouth-watering recipes and cooking tips with possible customers looking for something delicious to eat.

Invite Food Bloggers in for a Rapturous Review
Everyone loves when an outside source comes in to review their restaurant, and they can impress them! Suppose they are offered the opportunity to go in and try items off of the menu. In that case, they will most likely leave with a positive impression that a restaurant can share on social media or other online marketing efforts.
Host Theme Nights for Your Customer Base
Additionally, restaurants can have special themed nights with live music, open bars, happy hours, and more. These events can attract a large number of guests and spread word-of-mouth within social media networks to attract even more customers to that local business!
Themed nights are also an excellent way to tap into customers' interests. If the restaurant is mostly hosting themed nights with country music, consider having more rock and roll themed nights to attract a new crowd instead of leading them to other restaurants. Also, try to stay current with pop culture or national events to attract new people into the restaurant business.
Start a Food Truck to Gain New Customers Through Exposure
Food trucks are an excellent way to attract new clientele. This is one of the best restaurant promotion ideas because a food truck is a mobile billboard. A food truck enables a restaurant to change locations on a whim and have pop-up events. The food is often fresh off the grill, leaving happy customers and drawing in much attention over social media networks. Make sure to put the restaurant's online details on the side of the truck so that the truck is an endless marketing cycle for the restaurant.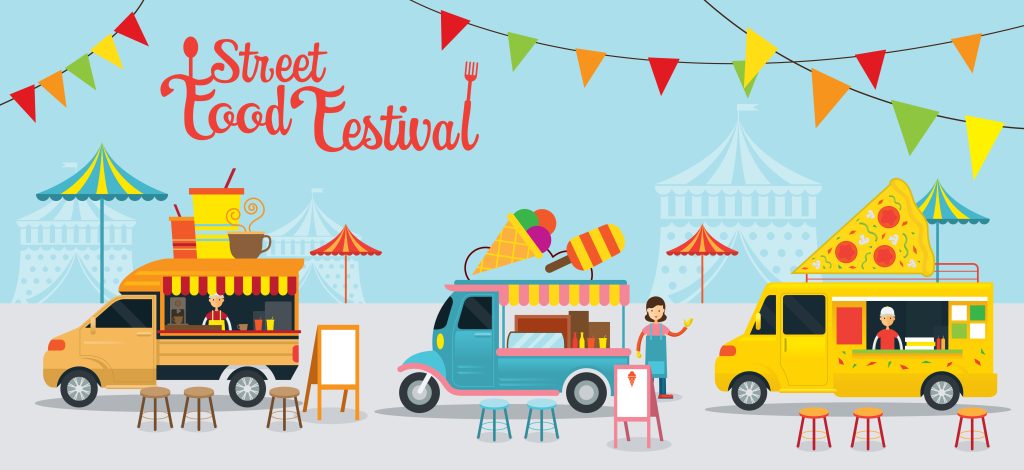 Offer Free Appetizers When a Local Sports Team Is Playing
Everyone loves to see their sports team win. By offering complimentary appetizers when the city's team is playing, a restaurant is tapping into the potential of reaching a large crowd who would already be at the bar spending money on drinks and food. This is a great way to attract new customers because it doesn't require them to spend extra money. Busy nights like these are when online reservation tools will come in handy!
Hire a Marketing Firm Like Fusion Marketing for All Restaurant Marketing Needs
The best way to attract new people is to hire a professional marketing firm that can help with unique marketing ideas. A full-time marketing team dedicated to growing clientele will ensure constant input from those highly trained in growing businesses.
Fusion Marketing has been doing business with local companies since 2013 and specializes in creating marketing campaigns that are driven to create sales.
Consumers these days pay an online presence close attention to reviews, so make sure you choose the best marketing strategies for your business to get started.
If you need help with marketing a restaurant, contact Fusion Marketing today!