So, you're ready for a logo for your business, but you don't know where to start. Sure, you may have some ideas of what you'd like that logo to represent, but how do you make that intangible idea a reality?
We will take you through the process we use when we have a client come to us for a logo design. We'll walk you through the steps, from idea generation and concepts all the way up to branding implementation. You'll also get to see some of our work and shots of our process so that you can see how it breaks down in real life.
Designing logos is one of our favorite parts of what we do – we love creating something new, using creativity and imagination along with a given set of criteria to bring logo ideas to life. We love seeing how people respond to the logos we design for them, and we take pride in a job well done!
Since the start of Fusion Marketing, we have worked hard to ensure that our logo design process is as easy as possible for our clients. We also try to ensure that we have the resources we need to create a great logo with any given set of criteria – we've been working and developing our skills for many years now. But before we dive in, let's start with a bit of groundwork, talking about the importance of having a logo and how to approach logo design before we jump into the process we use when working on a new logo for a client.
The Importance of Having a Logo
First, we just want to point out how important it is to have a logo for your business. We've seen too many people who are trying to save money by skipping this step, and we think they're missing out on something significant, if not the most crucial step to owning a business!
Your logo design is the face of your business – it's how people identify with you and what they see when they think about who you are and what you do. Having a logo can be one of the best investments you make in your business since you can use it for so many different things: screen printed t-shirts, your brand's business card, website, social media, signage, gifts… the list goes on.
Why do you need a logo?
We know we just said it's essential, and we're going to get into that a bit more into the process we use when we work with clients for their logos, but we want you to think about it. We believe people need a logo because it helps connect your business and your products or services under one cohesive image.
Your logo design is what separates you from other businesses. As previously mentioned, we've seen too many local companies try to get by without a logo or slogan. We think this is something that can kill your business – we know we wouldn't trust a company without a logo, and we feel we're part of the majority in saying that.
The Fusion Marketing Logo Design Process
With all of that said, let's get into the logo design process for Fusion Marketing. We'll walk you through it step by step so that you can see just how easy it is to get started on creating your brand identity with a professional logo.
Request a Quote
Requesting a quote is as easy as a few points and clicks!

When you land on our website at www.tryfusionmarketing.com, you'll notice that we've set up the site to be as easy to navigate as possible. We've even made sure that you can find the info you are looking for in more places than one.
Along the top heading of our website, you'll find "services." If you hover over "services" > "all services" > "creative," you'll find "logo design."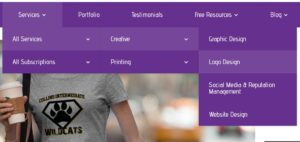 Another, more accessible way to get here is to click "quote" on the top right-hand side of the page in bright yellow. We made sure everyone can see the link!
Either option you choose, these links will take you to a landing page that discusses why a logo design is essential for your business. We've already gone over a few reasons, but this page will give you a bit more insight.
If you scroll to the bottom of the page, you will find a link for "request a quote." Clicking on that link will take you to another page. At the bottom of that page, you will see "get started." That's the link you're looking for.
When you click on "get started," another series of options will pop up. The one you are looking for is "services." Again, when you click this, another set of options will load where you will finally see "logo design." Using this link will take you to another new page.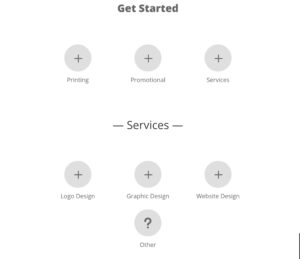 Add Your Information and Design Directions
The first part of this phase of the design process is getting your business information. We will need your project name, company name, tag line, and business description. To begin designing a professional logo for you, our team needs to know everything about your brand identity!
The next box has a drop-down menu that will allow you to pick what type of design style you are looking for for your visual identity. When we talk about design styles, we are actually talking about the visual aesthetic you are looking for as a business owner. There are a few options for defined criteria (monograms, wordmarks, etc.) Besides that, there is an option that says, "I am not sure – you decide."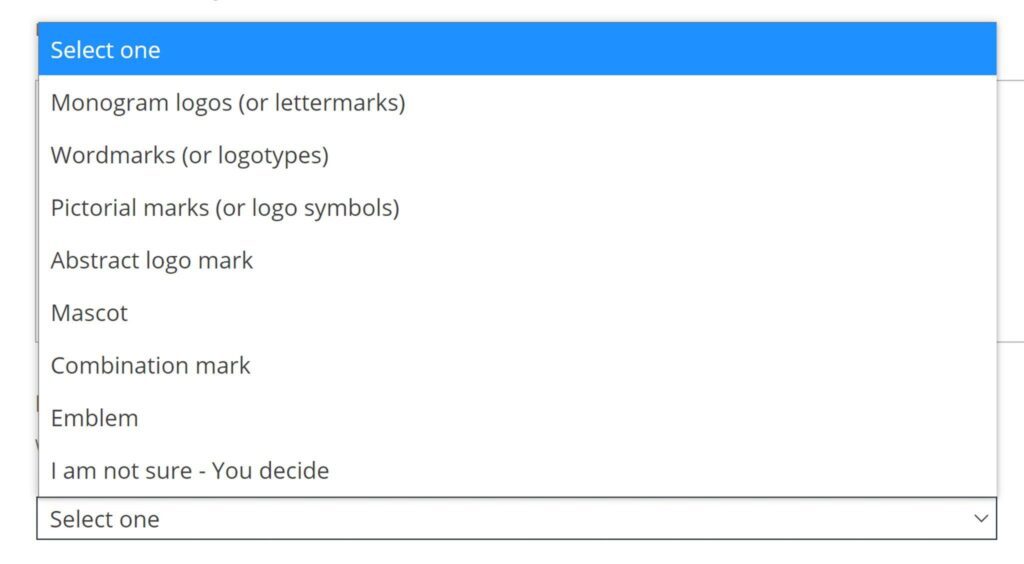 If you're unsure about what each type of logo looks like, choose the one you are unsure of in the drop-down. Our website will show you multiple variations of great logos for that specific type of logo design.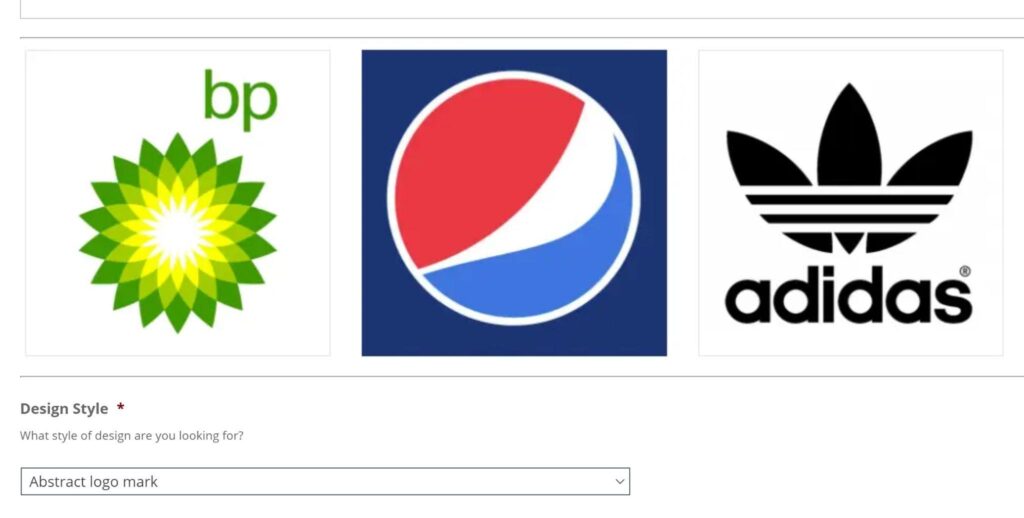 Once you've finished filling in everything on this page, hit next at the bottom, and it will take you to a drop-down concept menu. Here there are 2 options.
"I Know What I Want"
If you know what you are looking for in design concepts or you have rough ideas, you will choose "I know what I want." This will then populate a list of colors, a box for you to write your directions down to the minor details, and another option to upload a file.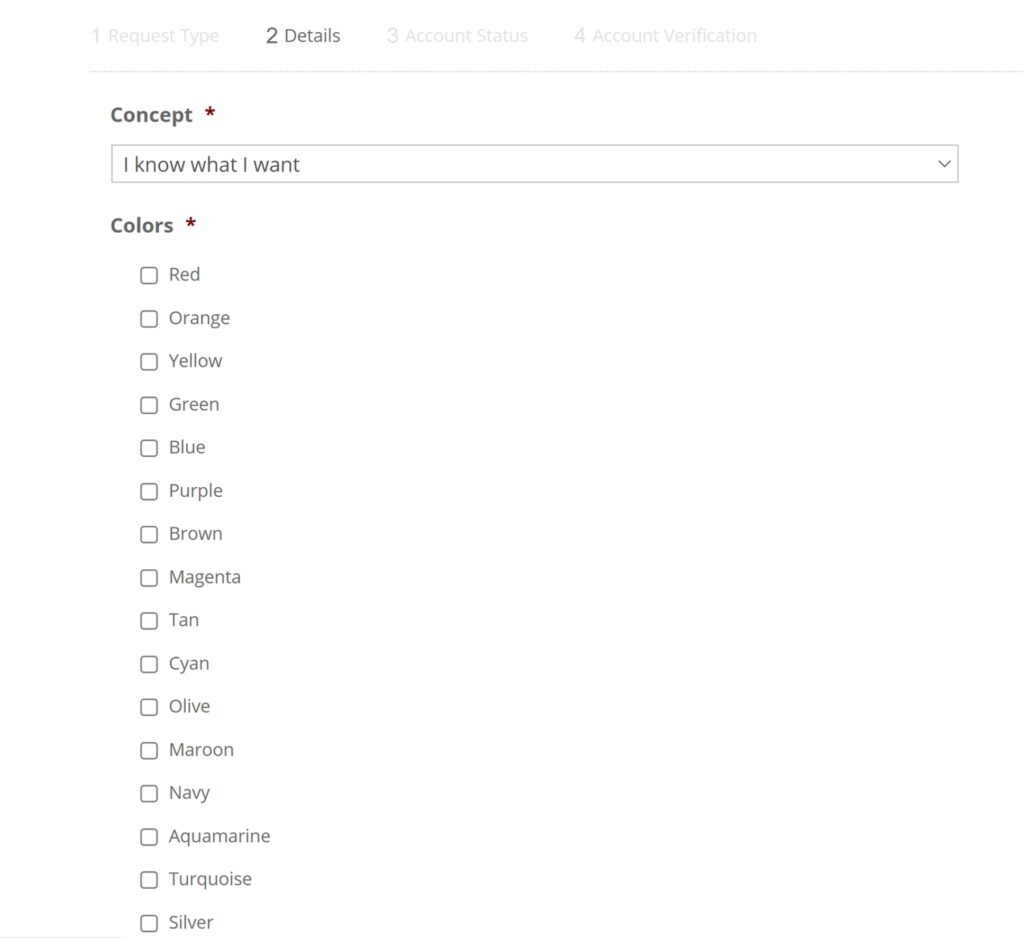 Maybe you already have a good logo, but you are looking for vector art or updating it with basic variations of different elements for business cards or digital platforms. In this case, uploading any files on the logo or any great ideas you've had on designing a logo from your client research is essential. In addition, any files that can be used as a style guide or design brief for our logo designers are much appreciated.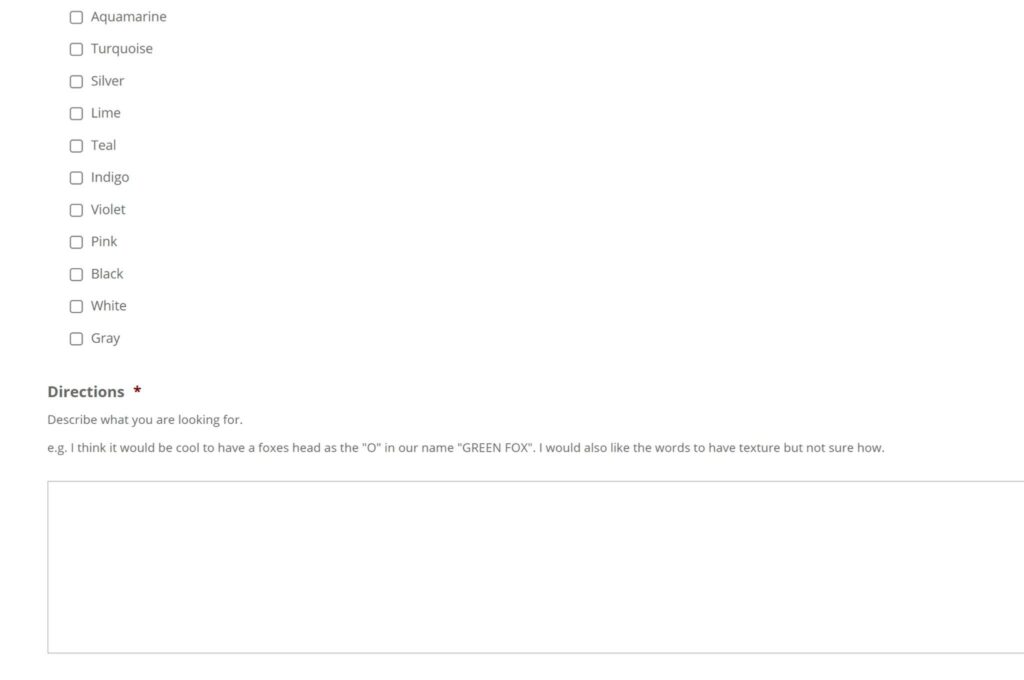 To get the perfect logo when it's time for your final product, you want to be as detailed as possible. If you know exactly what you want your brand message to say and look like, it is crucial to give clearly defined criteria for your logo concept.
"I Don't Know What I Want"
However, if you have a general idea of your personal preferences but nothing concrete, choosing the "you decide" option is there. Remember, this option won't mean that we will set our logo designers to work just coming up with a creative logo that we think is the best logo for your business. We will need more detail and a good idea of your brand personality to go off of for our creative process.
On this page, in the "concept" drop-down, highlighting "I don't know what I want," will bring up options to set up a meeting for the discovery phase. You will then fill in the best date and time for a 30-minute session with us. Don't forget to fill in the best phone number to reach you!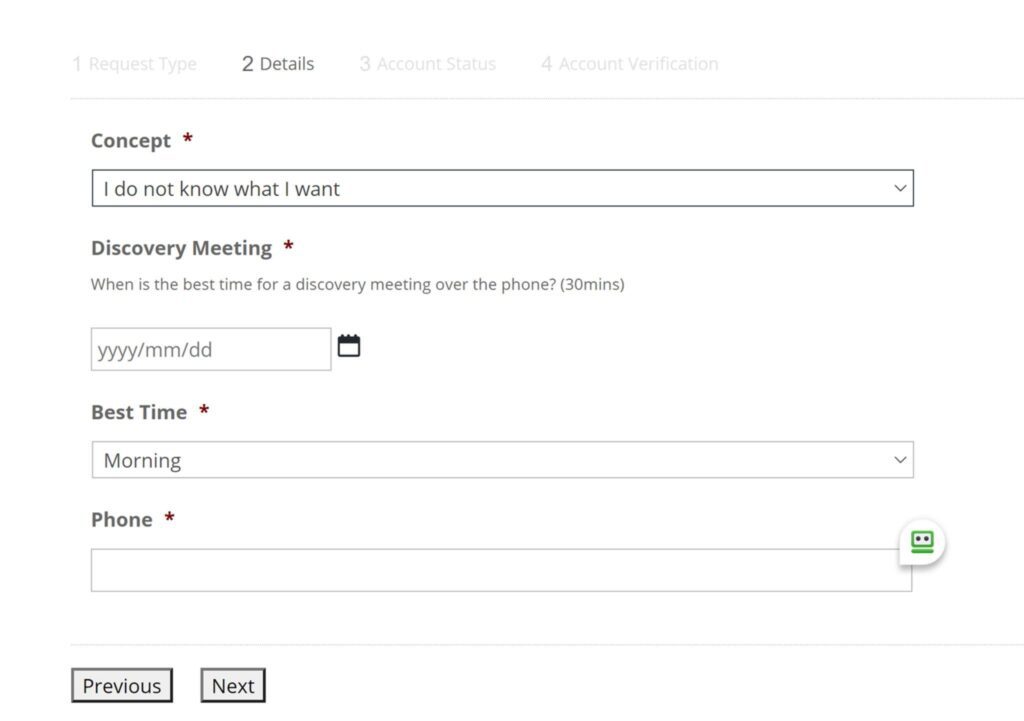 Discovery Phase
During the process of creating a logo, the discovery phase is one of the most critical steps. This meeting is where we will brainstorm ideas for your brand mark.
This creative brief in the logo design process is where you will have a chance to tell our graphic designer all about the logo concepts that you have had on your mind. You may have logo sketches that you'd like to show, mood boards that you've completed to provide direction for our team, or even aspects of logo designs from other companies that you would like to see in your logo. Any of these options are a fantastic tool for our logo designer as they provide visual shorthand to let us know what you see when you imagine your final logo design.
Creating an Account

For us to move forward with the design process, we will have you create an account. This is a simple process of filling out your information so that we can get in touch with you every step of the way.
If you do not create an account, we can't start designing a logo for your company.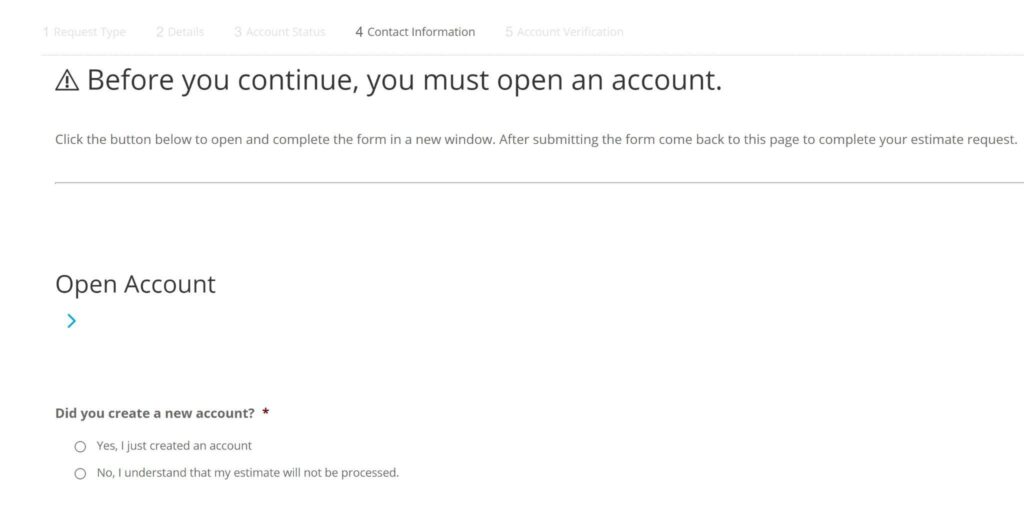 The Estimate for Your Logo Design
Once we have everything in writing and are ready to begin work on your brand strategy and logo design, we will send you a detailed estimate of your project.
This estimate is going to include a full breakdown of your design process. The est consists of how many hours we think it will take to create your logo design and a design cap, along with what types of files you will receive at the end of the design process. In addition, it will have a space for any details that may be important for your logo design process, such as how many initial logo design options we will create and what the total cost of the project will be.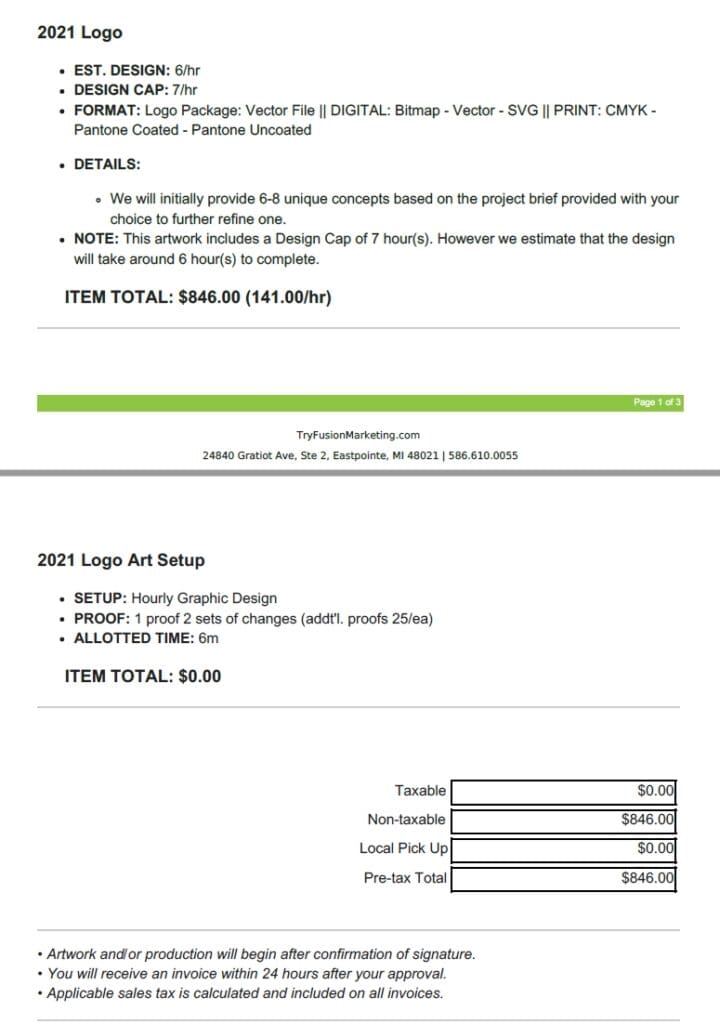 Once you have read over this information, you will be signing the logo design process estimate and sending it back to us. It's imperative that you read through all of the info notated in the estimate for your protection. We want to confirm that we have all the correct information to get you the logo concepts that you think will make an excellent design for your brand identity.
Invoice and Payment
Once you have signed off on the estimate, you are automatically locked into our art calendar. An invoice will be sent to you within 24 hours. Before we can send proofs of your logo designs, we expect confirmation of payment. We will not set to work on your logo design process until payment is made.
You will receive invoice reminders throughout the process from our automated system, K.I.T.T. These reminders are just as much for you as they are for us, and we try to keep it as lighthearted as possible.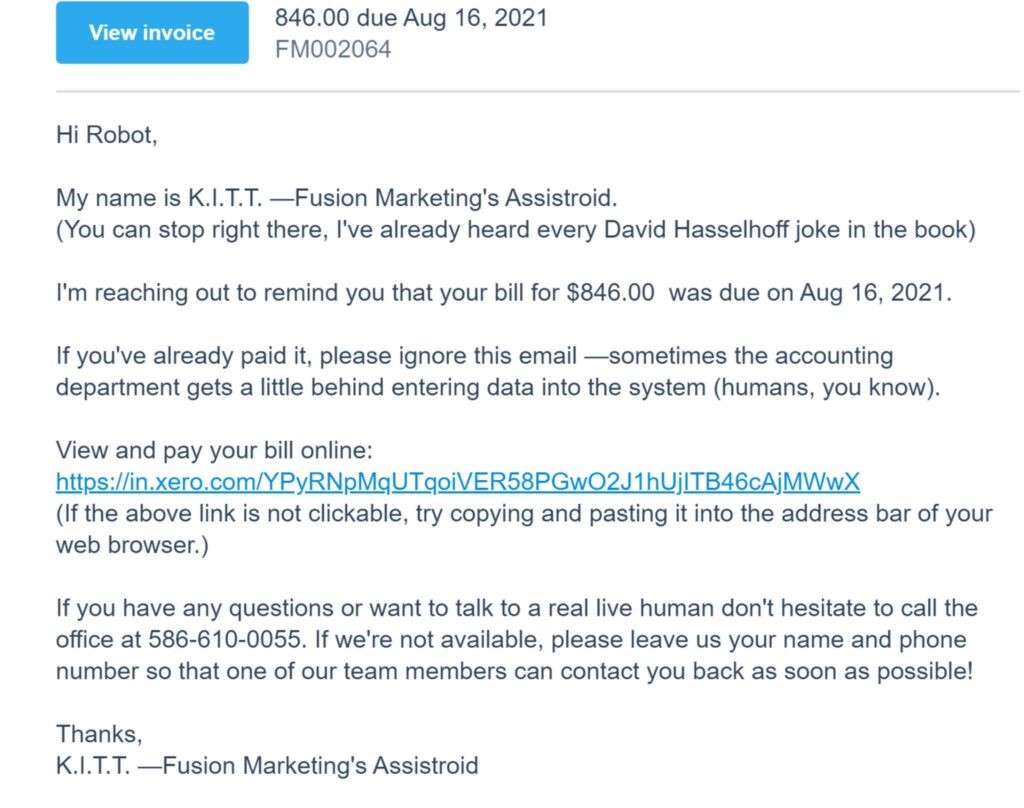 We work on all projects in the order they are received. Art turnaround from our professional logo designers is usually 24 ~ 72hrs.
Art Proof of Logo Concepts
Once we have completed the art for your logo design, we will send you an art proof via email. The email will have a clickable link to take you directly to your art proof!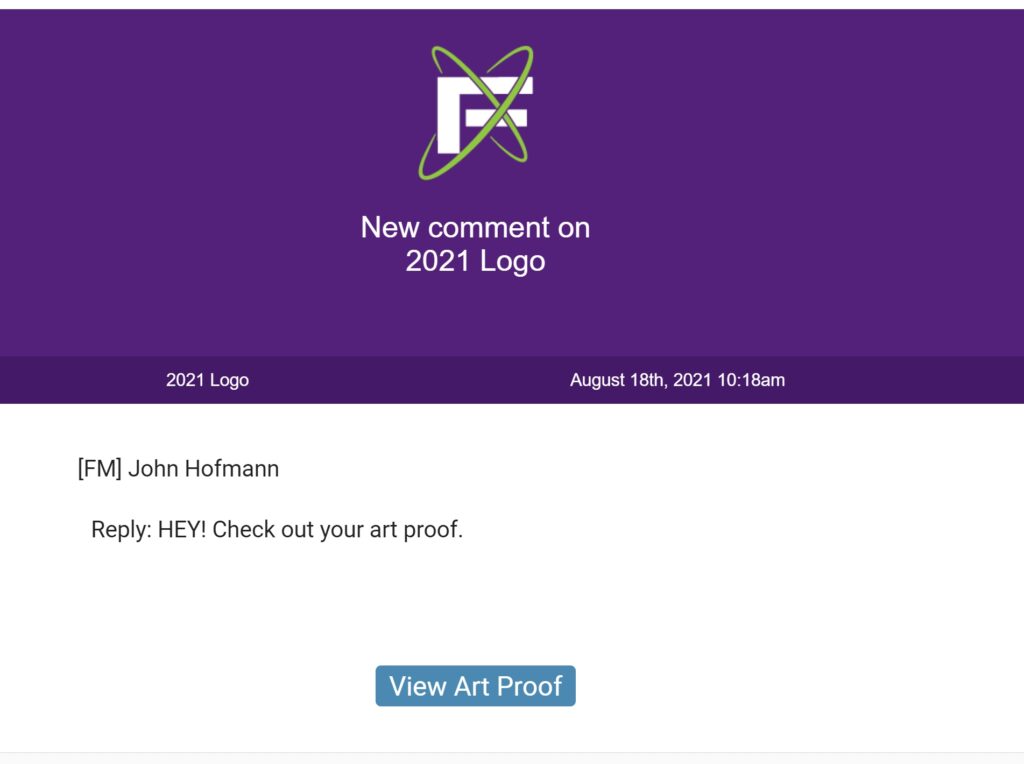 Our art proof system is custom-built for our business. It allows you to see your art and communicate directly with your logo design artist. We get rave reviews about this system and how easy it is to navigate! We've designed the logo design process system to keep track of every step so that you know what is going on at all times.
When verifying your art, it is essential to take note of everything that you see. You'll want to double-check grammar, dates, business info, wording, artwork, and colors (colors may vary based on your computer.)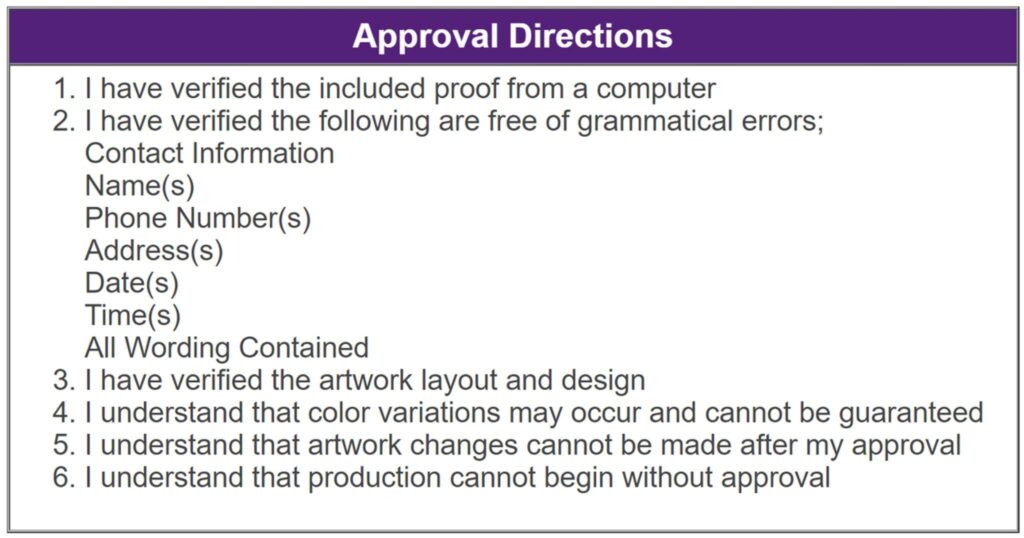 It's important to check out the proof for your brand marks on a computer instead of just your phone. You want to ensure that everything is exactly as you want before accepting the proof and moving to the next phase.
Changes to Your Proof
With each proof, you are allotted two sets of changes. (additional proofs are $25 apiece.) After you have sent back notations on what you would like us to change, we will make any needed changes and email you with your updated proof. Again, ensure that all components and logo ideas that were gone over during the branding questionnaire phase are correct and to your standards.

If everything checks out and you are happy with the final design, sign off on your proof, and we can move ahead to the final phase in the process of designing a logo. You'll receive an email letting you know that we have received your approval and will begin work on the project.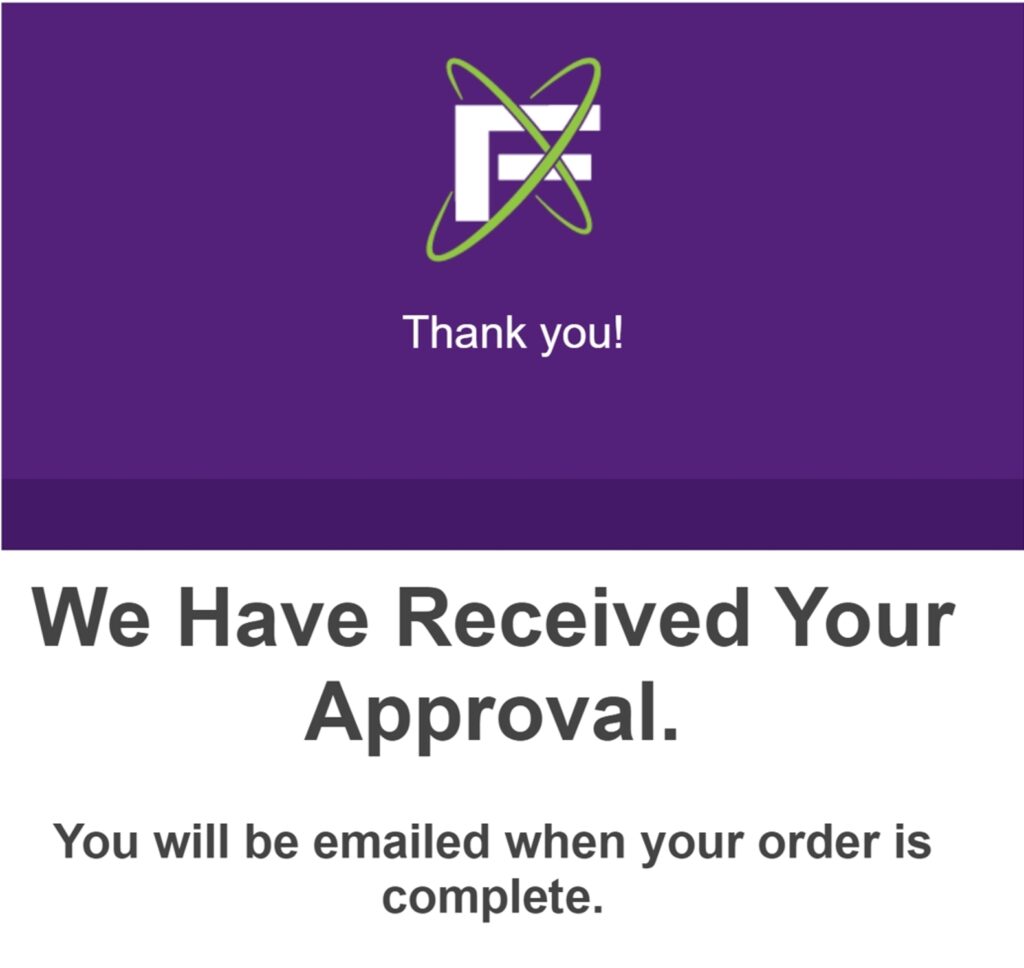 Final Process
After signing off on your final logo, a note is added, and your files are checked for quality and packaged up for you. An email is then sent to you with all of the final files for your professional logo.
We organize all of the final files for your new logo for web and printing, so you know which file to use for a business card and which file to use for your social media or website. We do everything possible to give you a great logo without hassle!
Why You Should Work With Fusion Marketing to Design a Logo for Your Business
We think that a logo is one of, if not the most critical pieces of your business identity! We will deliver a new brand for your business that will stand out from the crowd and reach your target audience. So, if you're ready to have a logo designed for your business, give us a call today!
We offer custom logo design services that will make your business stand out with a great new look. We have helped many of our clients find success with a brand strategy or new or updated logo and were looking forward to helping you as well!
We build relationships with all of our customers because we want to be the company that helps your business grow over time, not just for one job! So we'll work with you and your style guide to make a logo (or logos) that will meet your business goals and get your brand noticed. We offer logos for all types of businesses, from small start-up companies to well-established brands; we've got the experience it takes!
We have a team of dedicated logo designers that work with you every step of the way.
Give Fusion Marketing A Call Today!
We would love to answer any questions that you may have about our process. We'll talk with you about your business goals and help you figure out the best way to reach your target audience.
We can't wait to meet with you and start working on a brand strategy or new or updated logo!
Fusion Marketing will work with you to design a brand identity that will set your business apart from the competition. So call us today at (586) 610-0055, and we can start creating the logo of your dreams!