As a business owner, you know how important it is to have the right marketing tools. After all, the right promotional pens can boost sales, help build a strong brand identity, and spread the word about your company. However, not all promotional pens are created equal.
At Fusion Marketing, we specialize in unique marketing approaches. We believe in the importance of accurately reflecting your brand with promotional product branding that helps to effectively communicate your personality. Marketing with personalized pens branded with your custom logo or designs is a tried and true method that helps to spread your message and create awareness.
Whether you are looking for an affordable solution on a laser engraved pen, a creative approach to custom stylus pens, or a luxurious metal barrel option, we have pens that fit the bill. For example, do you want custom pens with orange ink? Purple ink? Green ink? Red ink? Pink ink? We can help you design a custom pen with any ink color you need!
Our customized pens are comprehensive and include ballpoint pens, rollerball pens, gel pens, fountain pens, and much more. In addition, we also offer branding services for your promotional products so that you can customize any of our wide selection of pens with your brand logo to create a truly unique promotional pen just for your brand!
With Fusion Marketing, you can trust that we are well-equipped to handle all of your desires for personalized pens. From stylus pens to logo pens with attached hand sanitizer, with each offering its own unique features that will help you stand out from the competition, the variety of promotional pen options available has never been greater. In this blog post, we'll go over our top 20 picks for promotional pens and go over the industries these personalized pens will truly shine in.
Ready? Let's take a look!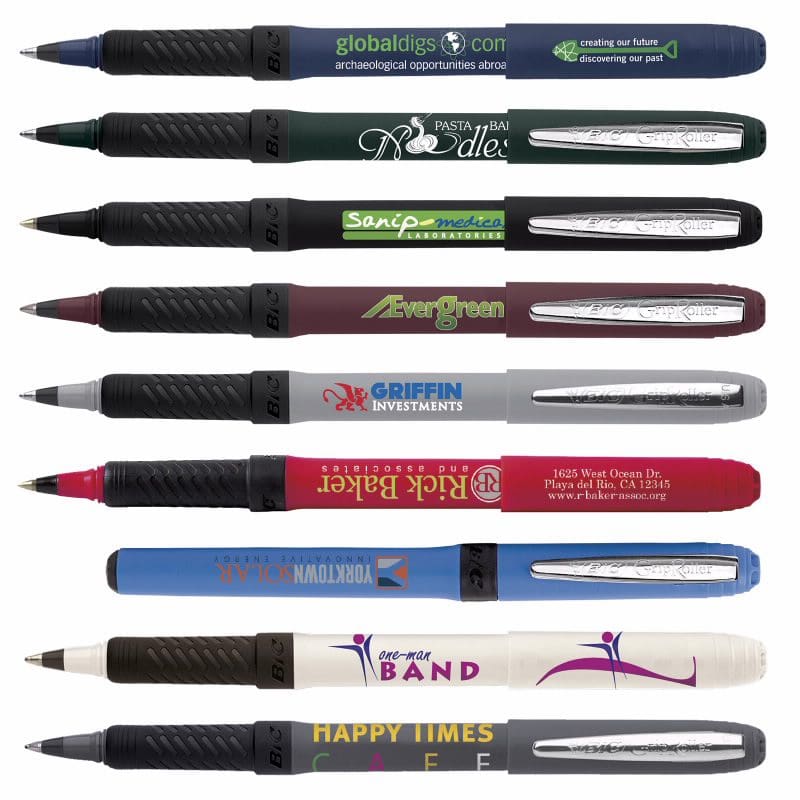 1. BIC Grip Roller Pen
Compared to a regular Bic Clic Stic Pen, the BIC Grip Roller Pen is in a league of its own. Businesses in the finance, retail, and service industries have a great chance to leave a lasting impression on their customers with custom pens thanks to this beauty. Fast-drying ink and a tungsten carbide ball guarantee that your notes will be legible long after you've written them. The two-piece roller pen has a rubber grip and a nickel-plated clip that keeps it in place while you write. The BIC Grip Roller Pen is the best pen choice for companies that value speed and quality. It is the perfect combination of reliable performance and convenience at an affordable price.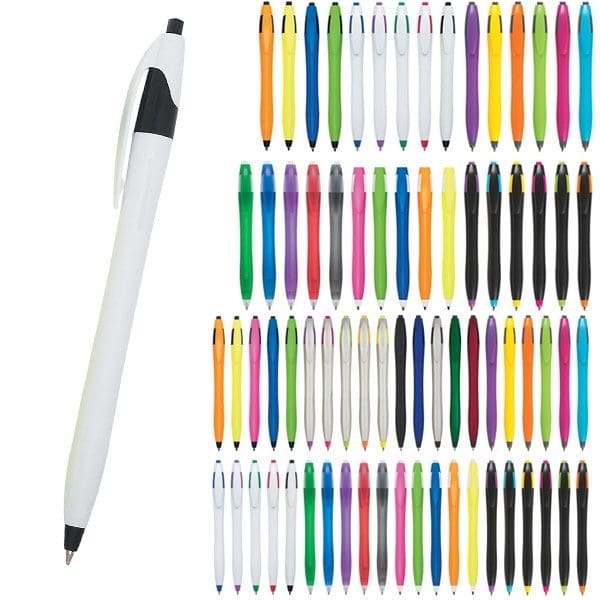 2. Retractable Ballpoint Pen
These days, no office space or trade show is complete without a branded Retractable Ballpoint Pen. This click pen features a distinctively curved stick design, a colorful barrel, and contrasting colored trim, all of which contribute to a surprisingly smooth writing experience that stands out from the page. In addition, this classic pen comes in either black or blue ink, making it ideal for all your note-taking and general-use writing needs. A must-have for any home office or workstation!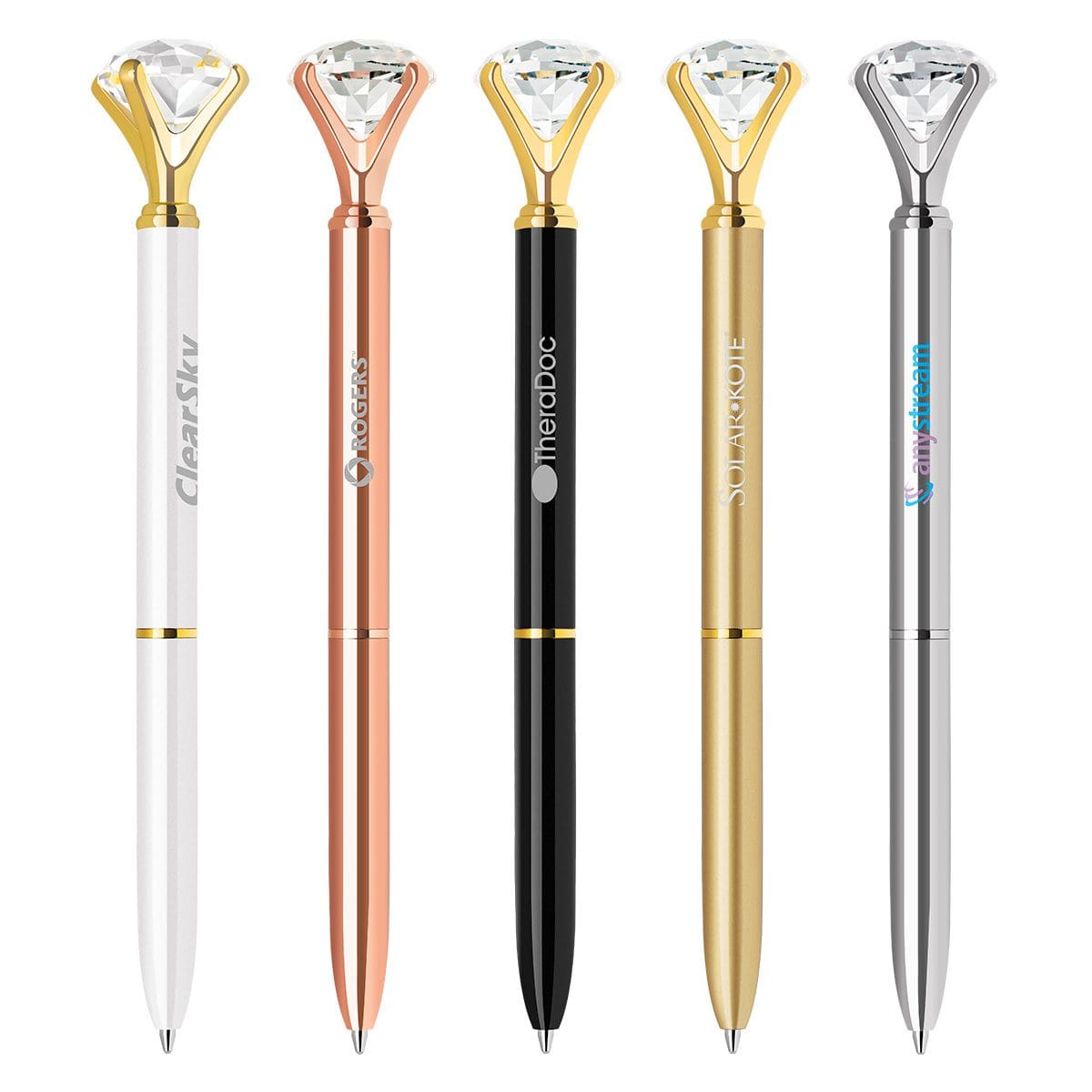 3. Diamond-III Pen
The Diamond-III Pen is anything but typical. This high-end pen features a sleek brass barrel and your choice of gold or rose gold accents, making it the kind of eye-catching, memorable item that commands attention wherever it goes. But what makes the Diamond-III pen special is the diamond-shaped crystal that is set on the top. Every time you use this pen, it will not only add a little sparkle and shine but will also serve as a constant reminder to potential clients and business partners of your individuality. In addition to its sleek metal design, this pen features high-quality EasyFlow ink and is easily customizable via silkscreening, pad printing, laser engraving, and full-color printing on the upper barrel, lower barrel, or both! With the Diamond-III, you can be sure that your pen will look fantastic and write flawlessly every time. This pen is perfect for any field where standing out is essential to success; use it to elegantly sign your next deal in real estate, entertainment, or influencer marketing!
4. Rita Soft Touch Rubber Pen
Look no further if you're looking for the ideal promotional item for any business! The Rita Soft Touch Rubber Pen is a fantastic stylus pen option for superior responsiveness on touchscreen devices due to its sturdy metal construction, rubber grip, and integrated stylus. In addition, these medium-point ballpoint pens come in black or blue ink and can be customized with your company's name or logo for added exposure. Using these branded pens as promotional items will draw attention to your brand and leave potential customers with your company name on their minds!
5. Plastic Pens with Screen Touch Stylus
These stylish and practical Plastic Pens with Screen Touch Stylus are the ideal clickable stick pen companion for jotting down thoughts and ideas at the office or quickly writing a shopping or to-do list while on the go. Its sleek stylus tip and shiny barrel with chrome-coated finish make it a great budget option for professionals, students, and anyone looking to make a good impression with cheap pens. These customized pens are available in a wide selection of trendy hues, including electric-blue, green, red, dark-violet, and royal blue. Distribute customized pens imprinted with a silly inside joke shared by your family or co-workers during the next holiday season, or use them at your next trade show, sales meeting, or airline promotion to keep your brand in your customer's hand!
6. Pen with Stylus
Stylus pens with an aluminum clip that a brand can customize are the epitome of efficiency and sophistication in the modern world, especially when they are engraved pens! You can use these personalized pens in a variety of ways, including as a promotional gift for loyalty members, at trade shows to give away to attendees, or as a unique and stylish tool to keep your own notes or ideas organized, all while advertising your own brand. This stylus pen stands out from the crowd thanks to its glossy accents, vibrant center ring, and screen-printed logo and advertising content. It is stylish, convenient, and built to last while giving you the nicety of having both a traditional pen and a finger-friendly stylus tip – making this stylus pen the perfect tool for jotting down notes on the go, whether you prefer a digital device or paper. Hospitality, healthcare, travel, and technology sectors can all benefit significantly in daily exposure by using this option for advertising. Use this chic stylus pen to draw attention to your brand!
7. Prodir QS40 PBB True Biotic
The QS40 True Biotic from Prodir demonstrates to the world how sustainability can coexist with fashion and excellence. This product raises the bar on custom pens with its ground-breaking plastic-free biobased biopolymers (PHA) materials. This biopolymer completely upends the status quo regarding sustainable textiles because it is both plastic-free and biodegradable. When discarded, these personalized pens mimic nature's own carbon cycle. This process has been occurring for millions of years with no negative impact on our environment. Providing superior design and complete peace of mind, Prodir is a pioneer in sustainability and style. This environmentally responsible alternative is ideal for companies focusing on science and the environment and those who want to demonstrate their dedication to green practices. Wow your clients with this superb piece of stationery.
8. 10 mL CleanZ Pen Sanitizer
Avoid embarrassing episodes of germophobia at future conventions, conferences, and other gatherings! Keeping your hands clean and germ-free is simple with our 10mL CleanZ Pen Sanitizers; each pen contains 80 sprays of our solution, which is 70% alcohol by volume. These sanitizer pens are stylish with their various colored caps. They are ideal for slipping into even the most petite purses or bags. They can also be further customized with scents suitable for your brand's specific requirements. Use our CleanZ Pen Sanitizers to leave a lasting impression in salons, spas, massage parlors, and medical offices alike. You'll be sure to keep clients coming back week after week. So stop being afraid to shake hands with strangers; get your hands on these pens and relax, knowing your brand reputation is in good (and clean) hands.
9. Crosby Softy Rose Gold w/ Stylus
The Crosby Softy Rose Gold Metal Pen boasts unparalleled elegance. Crafted with luxurious soft-touch barrels, premium rose gold accents, and a capacitive stylus that provides helpful touchscreen functionality, this iconic stylus pen is a must-have for law offices. Personalize the piece and leave a lasting impression with rose gold mirrored laser engraving. These personalized pens feature black ink, a medium point, and an imprint area of 2 inches and 0.295 inches in height (for engraved pens). Weighing under half an ounce, you'll never have to worry about carrying extra weight as you work to bring your ideas to life! This stylus pen is the perfect choice for any luxury office or workspace. Make your mark today with this sleek and sophisticated Crosby Softy Rose Gold Metal Stylus Pen!
10. EnerGel® Style Gel Ink Pen
Be the envy of your office and turn writing tasks into an art form with EnerGel Style Gel Ink Pen with premium 0.7mm twist action. Sleek, slim designs in various colors, including black, blue, teal, white, and silver, will make anyone stand out from the crowd. State-of-the-art ink is smooth, quick-drying, and won't smudge, providing precision for any assignment. As a bonus, each pen comes with its own velvet-lined gift box, perfect for presentation purposes with its silver trim. With an imprint area of 1 1/2″ w x 5/8 "h on the barrel, these personalized pens provide all you need to add style to your daily activities! These high-quality custom pens are the perfect way to make a lasting impression for schools, lawyers, healthcare professionals, and tech firms alike.
11. "Arcata" Eco-Inspired Jotter Notepad Notebook with Matching Color Eco-Inspired Paper Pen
Businesses looking for more than just a bulk stick pen order can give their business a sustainable edge with the "Arcata" Eco-Inspired Jotter Notepad Notebook! This notepad comes complete with eco-inspired recycled lined paper and a matching pen made from recycled material, making it perfect for businesses looking to promote their brands in an environmentally conscious manner while still ensuring they stand out from competitors at the same time! Featuring a recycled cardboard cover, this note-taking duo will have colleagues and clients taking notice. Each set includes 50 lined sheets of recycled paper (printed with the recycle symbol). A secure elastic band ensures that all items stay in place while on the go. Going green doesn't have to mean sacrificing style! Construction companies, environmental organizations, and eco-friendly businesses are ideal for this jotter notepad notebook.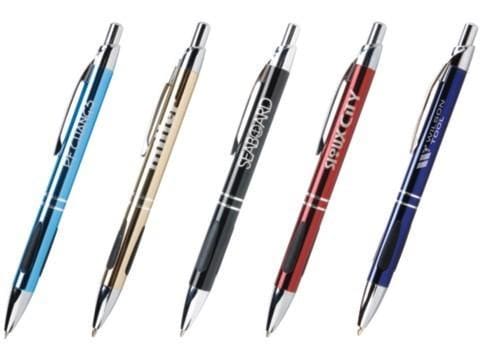 12. Vienna (TM) Pen
If you're looking for a unique writing implement to make your mark, look no further than the Vienna Pen. This sleek and stylish pen features European metal construction and comes in various high-gloss, high-fashion colors, including black, champagne, light blue, navy blue, and cinnamon, with silver trim and raised tear-drop grippers. Show your swagger with a classic black or blue ink ballpoint design conveniently produced with push-retractable technology on your next batch of custom pens. The Vienna Pen is perfect for those who desire captivating flair to match their signature. With customizable laser engraving offered in a slew of fonts as well as options including velour pouches, these custom pens are the ideal addition for car dealerships, banks, and any business looking to make a statement with their affordable prices.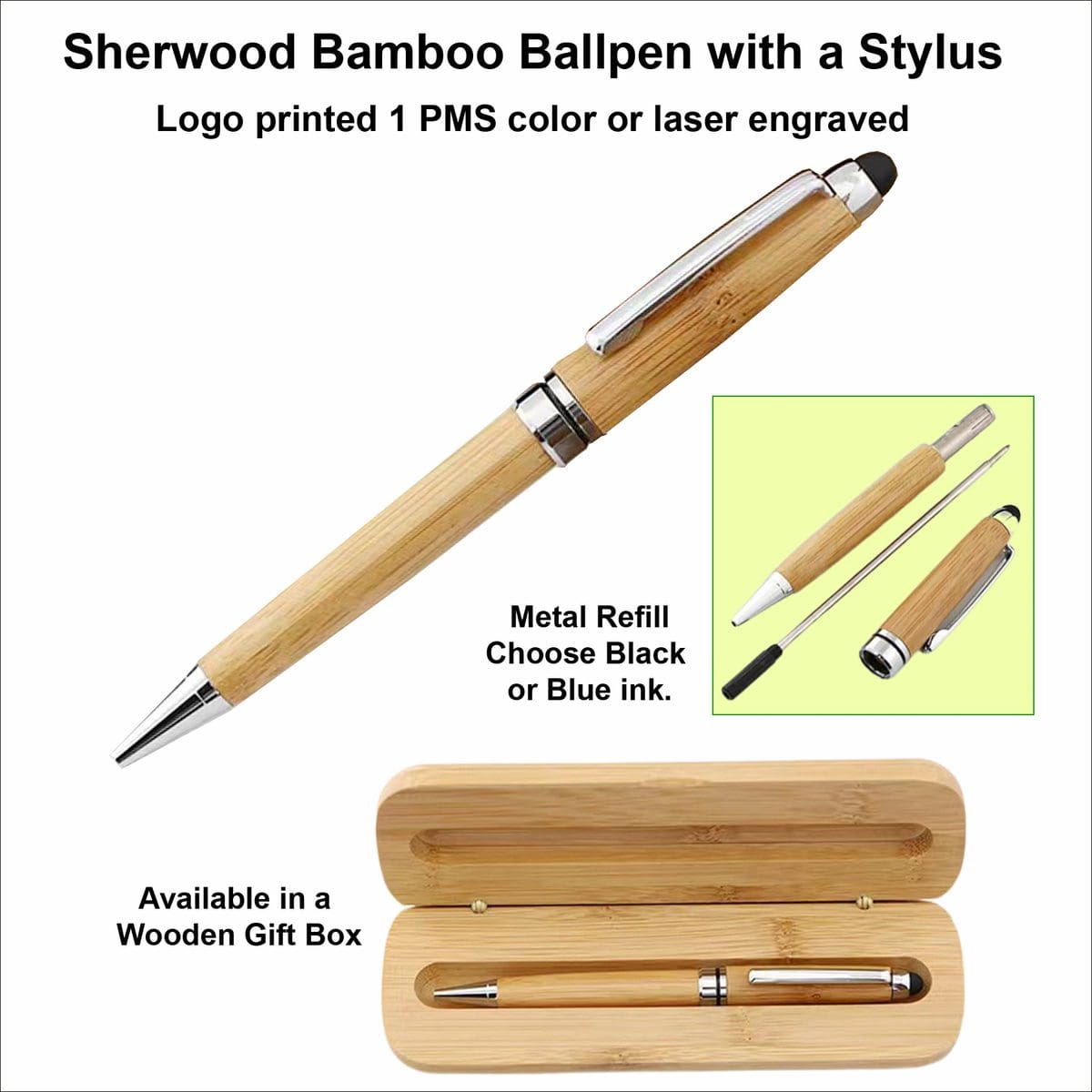 13. Sherwood Bamboo Ball Pen with a Stylus
If you're looking for a stylus pen with a little something special to treat your clients and staff, the Sherwood Bamboo Ball Pen with a Stylus is perfect. Its combination of natural beauty and high-tech convenience makes it ideal for any business that wants to show off its style and success. Crafted from bamboo, featuring a built-in stylus, and coming in blue or black ink colors, all presented in a bamboo gift box, this stylus pen is nowhere near a standard Paper Mate or Bic pen and is sure to be appreciated. With laser engraving or a one-color logo option for maximum visibility of your branding, the Sherwood Bamboo Ball Pen with a Stylus may be the quality piece of stationery that takes your business image up a notch. Graphic design companies, architects, and other creative industries would benefit from these stylish custom pens printed with a logo.
14. Textari Comfort Stylus Pen
Textari Comfort Stylus Pens are the perfect custom pens for anyone who needs a reliable tool in their everyday life. This pen has a sophisticated yet stylish aesthetic with its rubberized finish, engraved silver imprint, and shining trim that makes a lovely contrast with its colored matte finish. Its functionality also helps improve your writing experience, from its smooth-writing blue ink to its handy stylus specifically designed for increased sensitivity when interacting with touchscreen devices. This stylus pen is the perfect addition to any company that uses paper and technology in its day-to-day operations. Banks, law firms, and other professional companies are the ideal recipients of this pen. Whether writing a novel or jotting down notes on your tablet, these custom pens will help make your work easier and more enjoyable.
15. "Vicente" Light Up Pen with BLUE Color LED Light
The "Vicente" Light-Up Pen with Blue LED is a must-have for any stationery enthusiast. These plastic pens feature a bright, bold blue light activated by the plunger at its top. And just a simple twist of the barrel to extend its writing tip. They come in orange, lime, red, and blue so that you can find the perfect color to match your shop logo. These custom pens are great for taking notes in darker environments or having fun with colleagues. So get yours today and experience something new in writing!
16. Saturn Metal Ballpoint Pen
The Saturn Metal Ballpoint Pen is genuinely one-of-a-kind, unparalleled in style and substance. With its twist-action tip made of solid brass and a barrel construction decorated in silver or black carbon fiber with a color-matching cap, these custom pens are built to last. And that's not all – with non-toxic ink refills available in blue ink and black ink (or gel), you can write for hours without unnecessary exposure to toxins. If you wish for an even more personal touch, you can add an epoxy dome on the cap for different prices. When it comes to quality pens that make just as much of a statement as your handwriting, look no further than this pen. This pen type is perfect for any professional or luxury brand that values style, sophistication, and reliability. These custom pens will be a winning addition to your business, from high-end retail stores to fine dining establishments.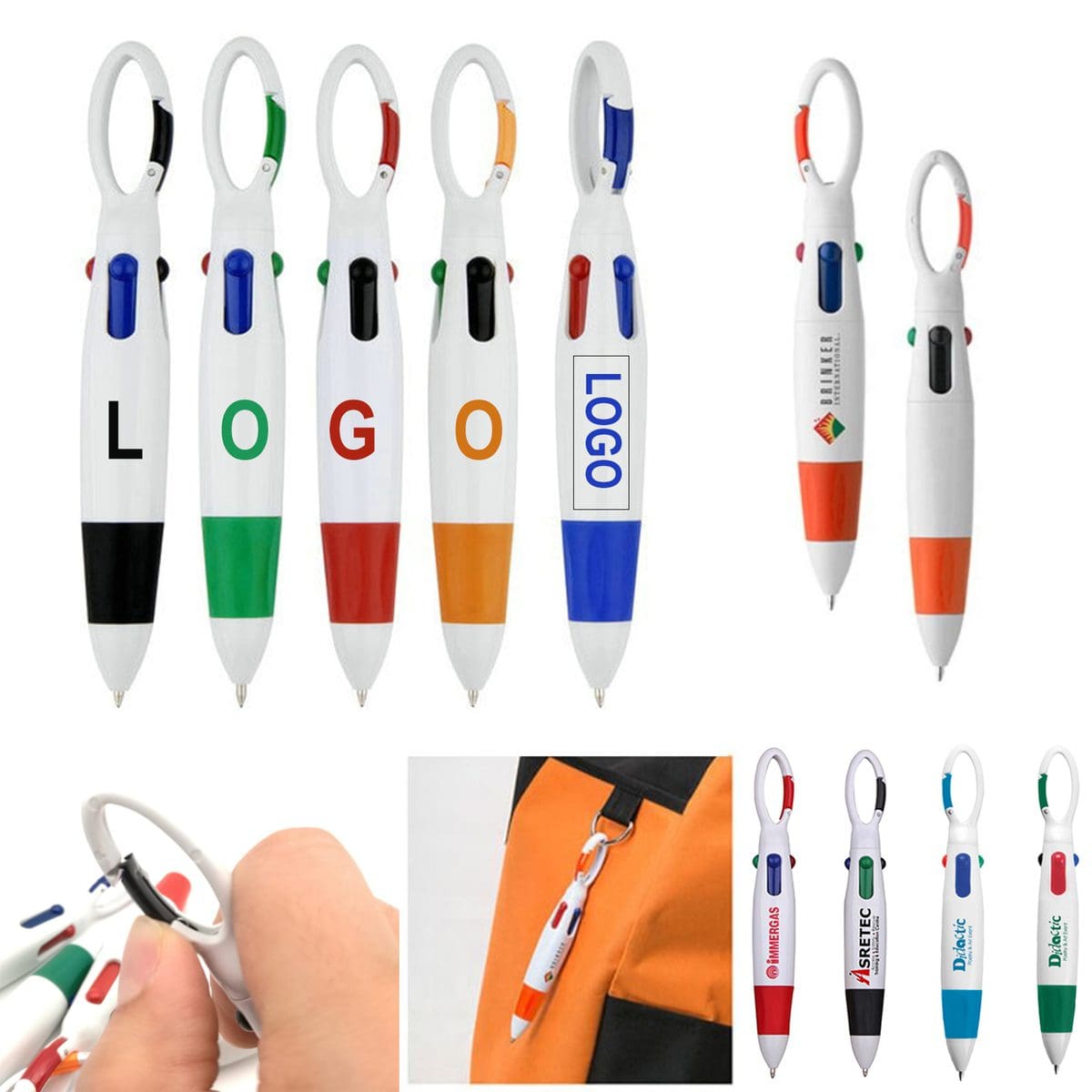 17. 4-in-1 Retractable Shuttle Pens with Carabiner
For those seeking a convenient way to ensure their logo pens are kept on hand by customers at all times, the 4-in-1 Retractable Shuttle Pens with their attached carabiner are the perfect writing companion on the go. With an innovative flex reaction design that allows each plastic pen to quickly and easily switch colors no matter where you are, these handy writing tools are a great companion for everyday life. And as an added bonus, each pen is designed with its own carabiner keychain for easy attachment to backpacks or purses. Featuring a small, portable size of only 5 1/2 inches long and vibrant color options, including orange, black, purple, green, blue, and red, these pens are compact enough to fit inside pockets but still capable of making a statement. These pens are great for on-the-go businesses like food trucks, delivery services, and outdoor events. At a starting price of $1.10/ea, they're great for nearly any budget!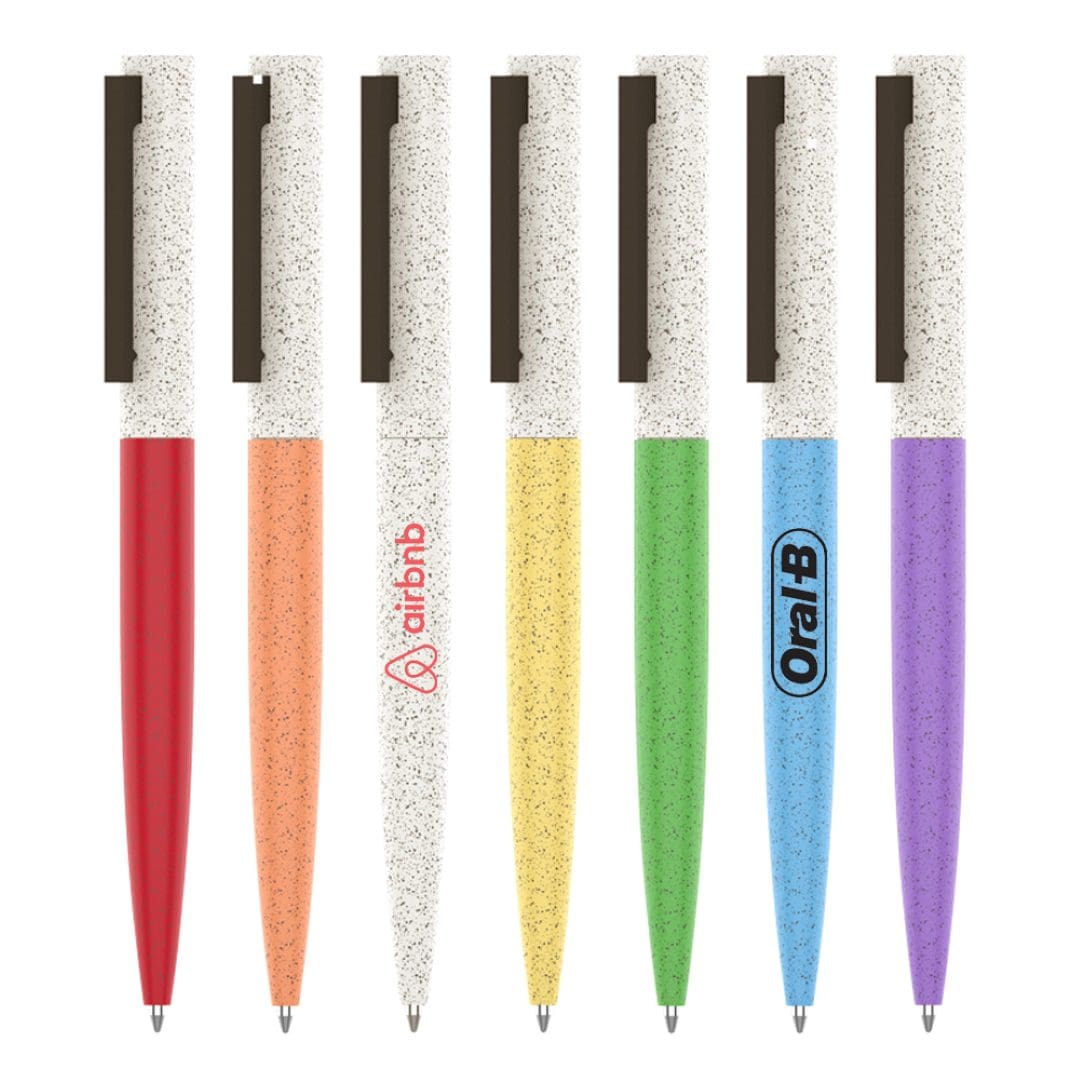 18. Magic Antibacterial Pen
What could be better than a stylish, vibrant, and customizable pen with your logo that provides unbeatable safety? Germs don't stand a chance with this bacteria-proof pen that's revolutionizing the stationery industry with its incredible 99.9% protection against pesky bacteria! Not to mention the addition of scratch, UV, and waterproof materials that increase the Magic Antibacterial Pen's durability and usefulness. With an anti-allergic component and plunger-action design, this pen will take note-taking to the next level while protecting your customers from nasty germs spreading onto touching hands, thus helping ensure a safe, hygienic environment. Available in a cheerful rainbow of colors—red, orange, yellow, white, green, blue, and purple—these bacteria-proof pens are guaranteed to make healthcare, hospitality, or education patrons smile. They will most likely make your budget planner smile, too!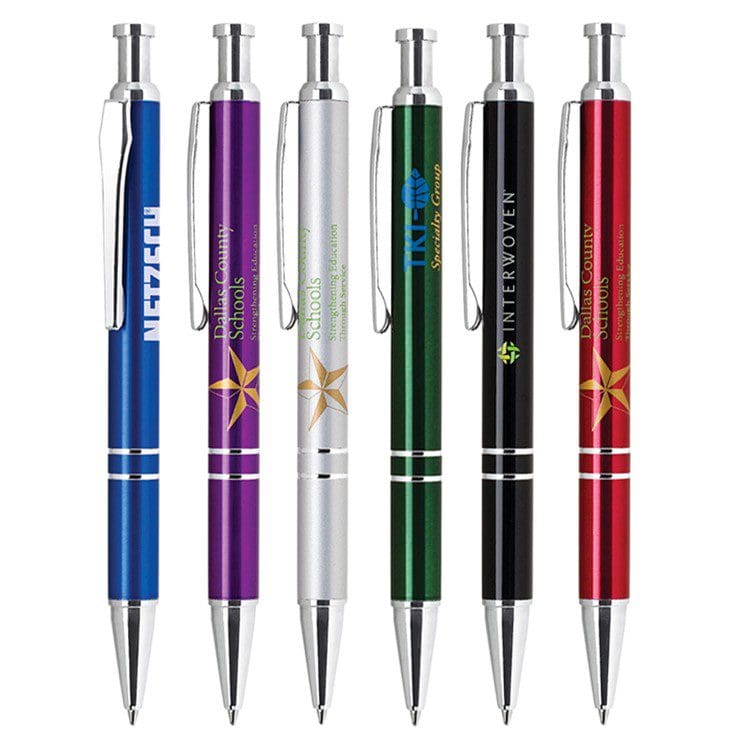 19. Luster Metal Ballpoint Pen
The Luster Metal Ballpoint Pen is an excellent choice for the perfect promotional idea. With an aluminum-shell construction and click-action that sets it apart from other bulk pens, this pen provides both style and function at affordable prices. The wide selection of color options for this pen includes satin chrome, green, purple, red, blue, or black barrels that create an eye-catching foundation that can be personalized with your logo in several imprint colors. You can always rest assured knowing the ink in these bulk pens is non-toxic, so you don't have to worry about the health of your customers. The stainless steel bodies, with their striking chrome accents, create beautiful pieces with prices ideal for giving away at parties and corporate events alike! Plus, this is no Bic Clic Stic Pen; the heavyweight feel helps leave a lasting impression on anyone lucky enough to pick these budget beauties up. Showcase corporate logos proudly along the side of these bulk pens, giving onlookers a clear understanding of who's behind your flair!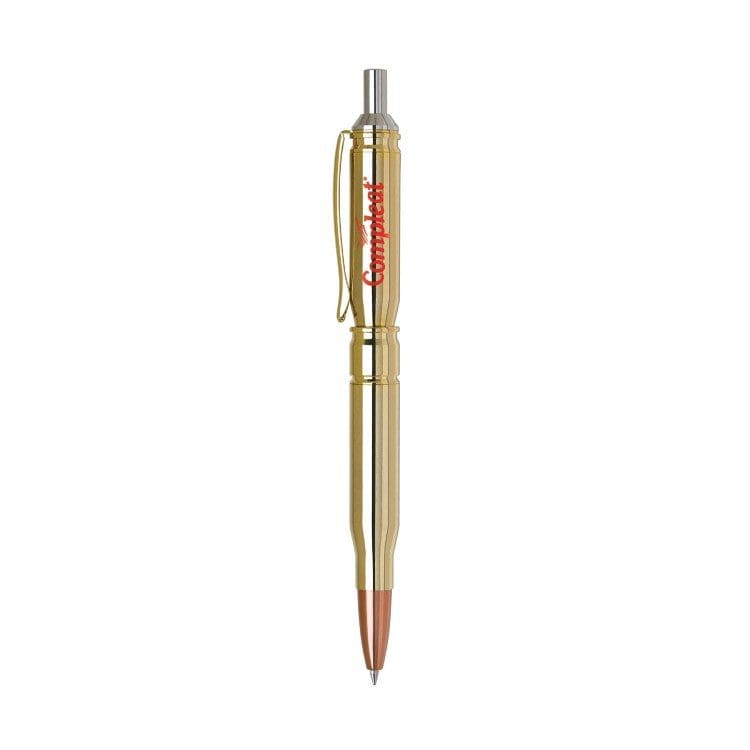 20. Bullet Metal Ballpoint Pen
For a simple but effective bulk promotional item for gun stores and ranges, you can set your sights on your target audience with these unparalleled Bullet Metal Ballpoint Pens! Crafted from brass, this click-action pen features a unique tapered shape reminiscent of a sleek bullet to give it added character and style. Your logo is easily added to the 1-1/8″ w x 5/16″ h or 1-1/8″ w x 3/4 "h areas via laser engraving or screen printing. These pens are filled with non-toxic black ink (with the option for blue refills) and make a unique and captivating writing instrument. Whether you want to order in bulk to make a statement at work or gift friends and family with a unique item, this pen is sure to hit the mark.
Fusion Marketing's Top 20 Favorite Personalized Pens
There you have it— Fusion Marketing's top 20 picks regarding promotional pens and the markets where they shine best.
With these twenty amazing promotional pens, you'll surely find one that fits your target market's needs more efficiently than ever before! So whether you want something sleek and stylish or something practical and durable, there's sure to be something here that suits your needs perfectly!
So, if you want to make an impact with your branding materials – don't wait – start shopping today! Investing in good quality promotional items will help ensure success in any industry – so don't hesitate to get started now! Contact us today so we can help you find just the right custom-branded writing instrument tailored to fit your target audience!