Most people think of business logos as the little emblems representing big brands like Nike, Apple, or McDonald's. You might not realize it, but most companies have a logo, big and small businesses alike. They don't feel complete without one!
A logo is more than just an image or a design. It's a symbol of your business. It represents your brand and what you stand for. That's why it's essential to be clear about what your business wants to say with its logo when you work with a logo designer.
If you've found yourself wondering, "How do I communicate what I want with my logo designer," we're here to help you properly prepare to communicate the vision for your business logo to your graphic designers or a freelance designer.

Decide on a Budget
Understanding that a quality logo will come at a price is essential. If you're looking for a top-notch, world-renowned creative designer, be prepared to spend money. Logos can cost anywhere from a few hundred to several thousand dollars, depending on various factors.
Of course, you don't need to spend that much on design work to get a great logo that grabs the attention of your audience. No matter your budget, be upfront about it with your logo designer from the start. They can recommend ideas and options according to your price range. Some designers may even have a payment plan option, allowing you to pay money over time instead of one lump sum.

Think About What You Want in a Logo
What may be the most important step for business owners is to know what they want.
Logos are used everywhere, from social media and your company website to t-shirts, business cards, and even the sign on a building! When determining the best logo brand strategy to gain clients, it's crucial not only to consider what you think looks nice to you but also to consider your customers. A perfect logo will tell them what you offer without words.
Before a meeting with graphic designers about a new logo design or a redesign project, ask yourself the following questions:
What feelings do you want your logo to evoke with your brand logo?
What message do you want to communicate about your business?
Who is the target audience for your company?
What colors do you want to use for your brand?
These questions will help you determine your logo's overall look and feel. You might want a simple design for your business that's easy to remember or something more complex that tells a story. You might wish to use bright colors that attract attention or something more subdued, conveying sophistication.
Write down a few adjectives that describe the image you have in your head. These will be helpful when you start talking to designers about company logos.

Think About Your Target Audience
Your target audience is the group of potential customers you want to reach with your product or services. When thinking about what would make a successful logo design for your brand identity, it's crucial to keep target customers in mind.
Who Are They?
Ask yourself:
What are their demographics?
What are their interests?
What do they care about?
How can your services or products improve their lives?
If you are unsure how to market to your potential clients, your design service team can help you figure out the best way to appeal to them.
What Do They Like?
Your target audience's preferences will play a significant role in the logo design process. After all, you want customers to like your logo! For example, suppose your demographic is primarily young people. In that case, you'll want to use more modern colors, fonts, and design work that will look good on your website and social media. On the other hand, you might want something more classic to target an older demographic with your brand.
What Do They Need?
Consider what your customers need from your brand. Do they need a feeling of trust? A sense of fun? A sense of security? Once you know what they need, you can start to think about how your logo design can communicate that to create loyal customers. Then, with the help of your designers, customers' needs can be met through colors, fonts, and other details to design a great logo they'll love.
How Will They See Your Logo?
Will clients see your logo advertising your services on a billboard from far away or up close on a business card? Will they see it on your website on a computer screen or a mobile device? It's important to consider how and where the target audience for your services will see your logo so that you can design something legible and visible for your business with your logo designers.
What Kind of Feeling Do You Want a Potential Client to Have When They See Your Logo?
Your logo should evoke the right feeling in your target audience. For example, if you want them to feel trusting, your logo should be reliable and professional. On the other hand, your logo should be energetic and vibrant if you want them to feel excited.
These topics will give you a good starting point for communicating with your logo designer. By taking the time to think about what you want and doing some research, you can be sure that your vision for your company's logo is clear before starting work with a designer. This will save you time and frustration in the long run!

Do Your Research
You don't have to be a design expert to know what you like. But, doing some research before you start working with a designer can be helpful.
Take a look at the logos of businesses in your industry. Note the ones that stand out to you and try to figure out why. Is it the color? The shape? The font?
Once you know what you like, you can begin to communicate these elements to your designer.

Think About Your Competitors
Once you know what you want, take a look at your competition. See what these businesses are doing right and wrong regarding their logo design. This will give you some ideas of what to do and what not to do with your own logo.
If you find an example that you are particularly fond of with design elements that you would like to use for your company, don't forget to bring it in to show your designers!

Put Together a Creative Brief for Your Logo Design
Now that you've thought about what you want from your logo, it's time to start on a brief to share your design needs with your graphic designer. A creative brief is a document that outlines the parameters of your project so that everyone is on the same page during the creative process.
Your Brief Should Include:
A description of your business
What type of brand image you are looking for in logo designs
Your brand values
Your target audience
The feeling you want your logo to evoke on first impression
The message you want to communicate
The colors you want to use
The style you're looking for
Your budget
Your branding timeline
This is just a starting point for your brief—you can add or remove items as you see fit. The most important thing is to be clear and concise in your descriptions so that your logo designer knows exactly what you're looking for.

Create a Mood Board
After you've spent some time thinking about a logo design project that speaks to your brand identity, it's time to put your ideas into a visual format.
A mood board is a collection of images, colors, fonts, and other design and style elements that you can use to communicate your vision for a project. It's a helpful tool for designers and clients because it gives the design agency and the client's business a clear idea of the project's direction. It's helpful to think of it as a style guide.
To create a mood board, gather images from magazines, websites, and anywhere else you can find them. Look at key points such as color, overall shape, size, and typeface. Share examples and different versions of what you like and think would work for your business with your logo designer.
This is just a starting point for creating a mood board—be creative and have fun with it! The more specific you can be, the better your future logo design! Your goal is to communicate your vision for the logo project to your graphic design team so that they can create a logo that meets your needs and expectations.
Sit Down With Your Logo Design Team
Now that you know what you want to communicate with the design agency or freelance designer working on your logo design, it's time to spend a few hours face-to-face with your designer! This meeting is where you'll really start to see your vision come to life.
During the meeting, be sure to review your creative brief and mood board with the graphic design team. Show them examples of logo designs that you feel appeal to your company and explain what it is about those designs that speak to you. Of course, the more specific you can be about your logo design wants and needs, the better.
A good logo design team or freelance designer will then take your feedback and start working on initial concepts for a powerful logo for your company branding. Your designers will base your design on the information you've provided, so it's essential that you are as clear as possible from the beginning about what you want for your business.

Be Involved in the Logo Design Process
Once the initial graphic design concepts are created, it's time for you to give your feedback! This is where you can really start to see your vision come together. The logo designer will take your feedback and design decisions and make revisions to the design until you are happy with the final product.
It's important to be involved in this process and give the designer constructive feedback on the design work. Remember, you are the client, and this is your company's logo we're talking about—it's a big deal!

Be Patient and Have Faith in the Process
Designing a logo takes time, and patience is vital throughout the process. A good logo design team will want to know your business and what you're all about before they start creating concepts for an effective logo design. Designers will want to nail down all the details about your company and the industry so they can create something that ensures your logo speaks to a potential client at first glance!
Your logo will be used for branding your company across all platforms. Your logo will be one of the first things potential customers see when encountering your business, from social media marketing to printed business cards. This is why it's so important to have a logo that you love and accurately represents your company—it's worth taking the time to help your designer get it right!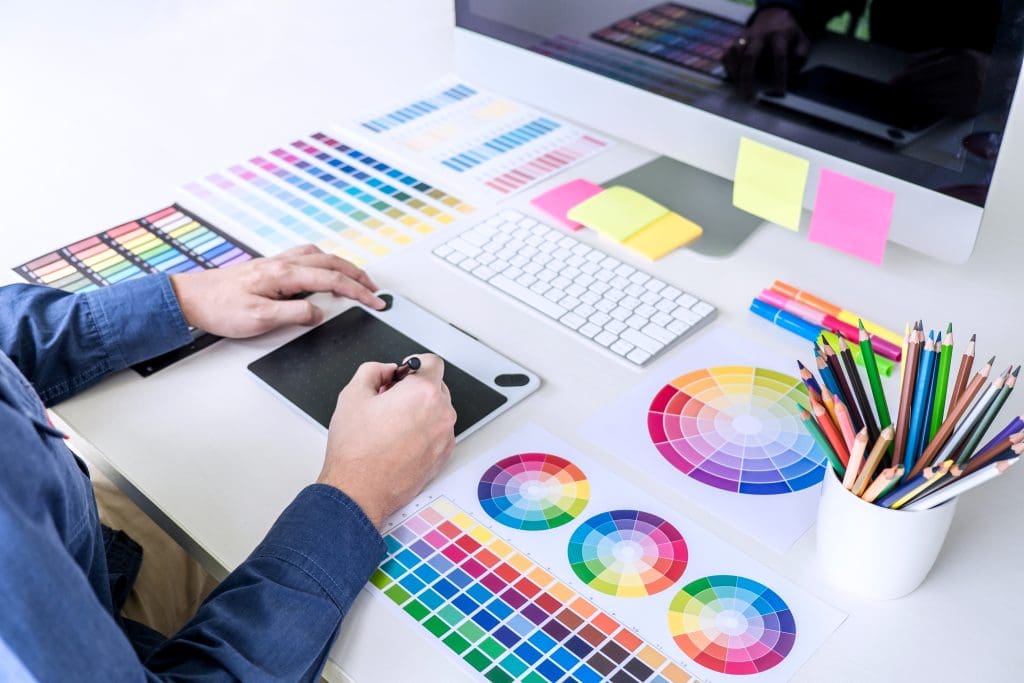 What's Next?
Logos can make or break a brand. Earning a new client's business over other companies is the entire point of a logo. If you're unhappy with your current logo or don't have one, contact a professional graphic design team to design a new logo to help your small business or large company thrive in your industry by bringing new customers to your door.
Remember to keep these tips in mind when you're ready to start working on your company's logo. By being clear about what you want and staying involved in the process, you can ensure that your final product is a logo you love and accurately represents your business.

Quick Tips for Offering the Right Information About Your Company to Your Designer:
Be specific when describing your business, target audience, and brand values.
As a small business, consider what makes your company unique and special to your community and try to communicate that to the designer.
Be clear and concise in your descriptions, so they understand precisely what you're looking for in logos and branding.
Consider what feeling you want your logo to evoke and communicate that to the designer.
Make a mood board with visual examples of designs you like.
Be sure to review your creative brief and mood board with the design team and provide feedback on the initial concepts so the designer can understand your vision.
Be patient throughout the process—a good logo takes time!
If you don't love it, ask for revisions until you're happy with the final product.
Fusion Marketing offers a wide variety of services to help both large and small businesses with their branding and marketing efforts. We would be happy to discuss your specific needs and offer quotes for our services. Contact us today!
For more logo design tips for your new business, check out this article!